Gehry's magnum OPUS HONG KONG
Updated: 2011-09-21 07:50
By Wang Ru (China Daily)
| | | | | | | | | |
| --- | --- | --- | --- | --- | --- | --- | --- | --- |
|   | | Print | | Mail | | Large Medium  Small | 分享按钮 | 0 |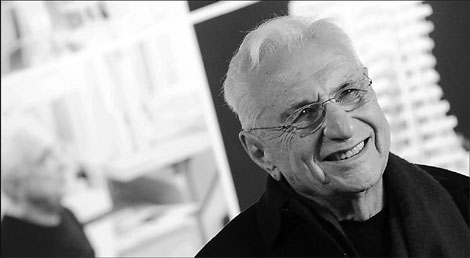 "I always start with an idea of breaking the building apart," says the iconic architect Frank Gehry. Photos provided to China Daily
The architect's latest work in Hong Kong is set to be completed in 2012 and overlooks the finance district. Wang Ru reports.
Frank Gehry has often been compared to Pablo Picasso because he has created so many iconic works. OPUS HONG KONG, by Gehry, is another remarkable achievement: his first residential building in Asia. The history of the building, set to be completed in 2012, begins with the Swire Group, which for more than 60 years had owned the exceptionally beautiful site, on Stubbs Road, a winding route that climbs from Happy Valley to the Peak on Hong Kong Island, overlooking the financial heart of Hong Kong.
Frank Gehry, 82, is established as one of the most important architects of modern times because of the striking originality of his buildings.
His standout designs include the Guggenheim Museum in Bilbao, Spain, which rejects the straight lines and boxy shapes of the past in favor of dramatic, organic Modernism.
For Gehry, one of the most inspiring aspects of working on OPUS HONG KONG has been the opportunity to design a building in one of the most thrilling cities on the planet.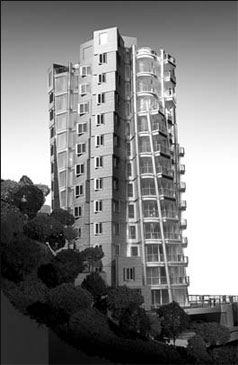 OPUS HONG KONG, Frank Gehry's first residential building in Asia, which will be completed in 2012.
"I couldn't believe that sites in Hong Kong were still available," says Gehry, recalling how he felt when he first saw the setting for the building, with its breathtaking views across the city to Victoria Harbor.
"I thought that a building in such a beautiful natural spot should have an organic feel to it," Gehry says.
Finely tuned glass-enclosed columns form the structure, twisting up around the building like reeds swaying in the breeze. "It gives a delicacy to the facade."
"I am fascinated with the interaction of shapes, like in a still life painting, so I always start with an idea of breaking the building apart."
Born to a Jewish family in Toronto, Canada, in 1929, Gehry spent his early childhood building imaginary cities with wooden blocks that his grandmother gave him.
In 1947 the family moved to Los Angeles and in California the young Gehry was exposed to a series of diverse movements, both architectural and artistic. He graduated with a degree in architecture from the University of Southern California in 1954, going on to Harvard to study city planning. After returning to Los Angeles he worked for a number of firms before setting up his own practice in 1962.
Los Angeles in the decades of Gehry's youth was a hothouse for experimental buildings, which inspired the young talent. Other influences came from the artistic community of Los Angeles, full of painters and sculptors.
"I approach each building as a sculptural object, a spatial container, a space with light and air, a response to context and appropriateness of feeling and spirit. To this container, this sculpture, the user brings his baggage, his program and interacts to accommodate his need. If he can't do that, I've failed," Gehry says.
It was with the re-working of his own Santa Monica home in 1978 that Gehry first began to attract attention from critics and other architects. He set about converting what he called his "dumb little house with charm" into a radical expression of intent.
"I was looking for a way to break down the monolithic scale of modern architecture," he says. "I realized that if I did 10 one-room buildings and jammed them together I could make really beautiful spaces. They wouldn't have to be compromised."
Gehry wrapped the exterior of his little house in unconventional materials - chain-link fencing, raw plywood, corrugated aluminum and other industrial materials - much to the dismay of his neighbors.
The project signaled Gehry's willingness to experiment. It also gained public recognition for his brave and unconventional use of materials, and for the way in which his buildings came together with unexpected elegance.
Gehry later completed the Vitra Design Museum in Germany, the first expression of his new style. The spiraling composition exhibits such dynamism that it almost appears to be in motion.
However, the most complete manifestation came in 1997 with the opening of the Guggenheim Museum in Bilbao, a moment and a building that caused the world to look in wonder.
In response to a commission for an art museum in Bilbao, Gehry designed a building whose form is directly inspired by the history and geography of the northern Spanish city and the particular site.
Taking its cue from the shapes and materials of the city's shipyards, the Guggenheim stretches along the riverside like a series of glistening hulls, which have been carved up and rearranged in a composition of exuberance and joy.
The Bilbao Guggenheim signaled a shift in architecture; a revolution made manifest in shimmering titanium. Gehry's radical achievement was confirmed when the veteran architect Philip Johnson, the man who christened "International Style" in 1932, described the museum as "the greatest building of our time."
Six years later in 2003, Gehry sealed his reputation as the most important architect of his generation when he completed the Walt Disney Concert Hall in Los Angeles, another writhing mass of shiny metallic forms that contained not just art but one of the most advanced performance spaces in the world.
The number of distinguished awards that Gehry has received includes the Pritzker Prize, which honors "significant contributions to humanity and the build environment through the art of architecture," the Royal Institute of British Architects Gold Medal and the American Institute of Architects Gold Medal.