Mining and energy fuel relationship
Updated: 2011-09-13 07:51
(China Daily)
| | | | | | | | | |
| --- | --- | --- | --- | --- | --- | --- | --- | --- |
|   | | Print | | Mail | | Large Medium  Small | 分享按钮 | 0 |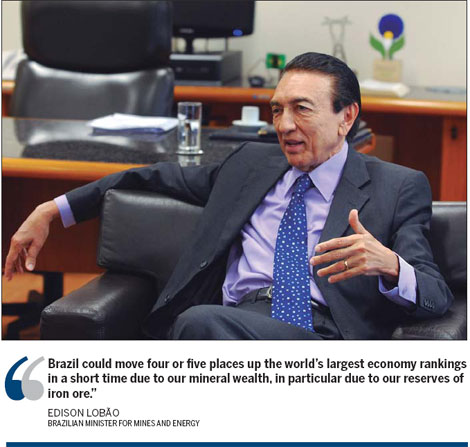 Whether it is mining for today or energy for tomorrow, these essential sectors are bringing China and Brazil ever closer
Development and planning strategies for mining and energy in a growing economy sometimes cause local concern. As Brazil still has industrial growth ahead, the discussions intensify.
But the debate sometimes overlooks the real benefits the sectors bring to the Brazilian economy and its largest trading partner China.
No industrializing nation in today's globalized economy can be an economic island, simply reaping the benefits of exporting vast quantities of commodities to their trading partners.
Brazil, like many other nations before it, is learning that lesson and is showing signs of working together with its trading partners in energy and mining.
In iron ore, steel, oil and clean energy, Brazil and China share many common interests, and the new relationship will be prosperous for both economies.
With more than 19 billion tons in proven reserves of high density iron ore, Brazil is the world's largest provider of this valuable commodity. Iron ore has also traditionally been Brazil's largest export to China, contributing more than 22 percent of aggregate total by the end of 2010.
In fact "Brazil could move four or five places up the world's largest economy rankings in a short time due to our mineral wealth, in particular due to our reserves of iron ore", said Minister for Mines and Energy Edison Lobo.
The Brazilian company Vale is the world's largest iron ore producer. Its figures show sustainable and increasing demand for the product and Brazil's other mineral resources.
Vale's second quarter earnings this year increased more than 70 percent over the same period in 2010 mainly due to growing Chinese demand.
China's five-year plan for 2011-2015 is set to drive the need for commodities including iron ore, copper and coal even further - and Brazilian companies are equipped to supply their needs.
The housing plan for China to construct 36 million units and the resulting urbanization will also fuel even greater demands.
Exports

Brazil's iron ore exports in 2010 totaled 370 million tons, an increase of 119 percent over the previous year. They generated almost $29 billion in revenue, accounted for 82 percent of mineral exports and almost 15 percent of the nation's total exports.
Further significant increases in exports of iron ore, copper, zinc and aluminum are expected by the end of 2011.
Such growth has led mining giant Vale to invest $2.9 billion to develop the Ponta de Madeira terminal in northern Brazil, paving the way for an exponential rise in exports.
Energy is also a key area defining the relationship between Brazil and China.
During President Dilma Rousseff's visit to China in April, Brazil's State-controlled oil firm Petrobras signed cooperation accords with China's State-owned Sinopec and Sinochem Corp.
The agreements will facilitate strategic cooperation in oil and gas exploration and production in Brazil and further afield.
It is not the first time Petrobras has collaborated with Chinese companies in its future business strategy.
In 2009 it secured a $10 billion loan from China Development Bank to finance the development of offshore beds in exchange for oil.
Investment
In 2010 Sinopec paid $7.1 billion for a stake in the Brazilian operations of Spanish oil company Repsol YPF and cooperated with Petrobras to build a 1,450-km natural gas pipeline.
In July PetroChina's Sulige gasfield - the country's largest - announced that its subsidiary BOMCO would form an oil-drilling equipment joint venture with Brazilian firms BRCP and Asperbras. Operations are expected to start in October this year.
Other areas for cooperation include energy infrastructure and renewable and clean energies - areas of importance to both Brazil and China.
Brazil's plans for thermal and nuclear power generation over the next 20 years will also provide many areas of mutual interest and participation.
As China's economy grows and as its population continues to urbanize, it may also want to look closely at Brazil's production and use of biofuel.
Last year 51 percent of motor vehicles on Brazil's roads ran on biofuel, and the trend is increasing to become mainstream.
Brazil's government recently unveiled new financing opportunities and additional incentives for sugar cane ethanol production as demand is showing signs of outstripping supply.
Minister Lobo explained that the government is working with the private sector to formulate and regulate a 10-year investment plan, the period when the demand for ethanol is expected to almost double.
The increased access and availability of biofuel in Brazil is attracting high levels of investment, helping the country climb in the global rankings of foreign investment.
China Daily
(China Daily 09/13/2011 page28)