Amendment allows secret investigations
Updated: 2011-09-01 08:01
(China Daily)
| | | | | | | | | |
| --- | --- | --- | --- | --- | --- | --- | --- | --- |
|   | | Print | | Mail | | Large Medium  Small | 分享按钮 | 0 |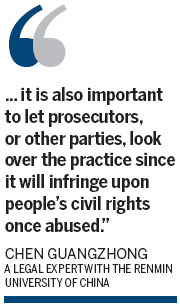 BEIJING - A controversial clause in a draft amendment to China's Criminal Procedure Law has met with mixed reaction from legal experts for allowing the police to conduct secret investigation and detention of suspects of national security crimes.
While some legal experts warned of possible abuse of such controversial measures, others argued that they will further help protect human rights, and conform to rather than contradict international conventions.
The experts made the remarks in response to doubts cast by international media over an article in the draft submitted last week to the Standing Committee of the National People's Congress, China's top legislature. The media outlets contended that the article violates international conventions and international law.
Article 73 of the draft provides that, in cases involving crimes regarding national security, terrorism or serious cases of bribery, the defendants or suspects can be put under residential surveillance in places outside their own homes if residential surveillance at the home of the suspect or defendant is likely to hinder an investigation.
The article also stipulates that when suspects or defendants are held under surveillance outside their homes, family members should be informed within 24 hours of the surveillance as well as the reasons and locations, except when family members could not be reached or such notice could hinder the investigation.
The wording in the draft indicates that police will first consider the grounds requiring authorities to give notice to family members, Wang Minyuan, a legal researcher with the Chinese Academy of Social Sciences and deputy president of the criminal procedure law branch of the China Law Society, told Xinhua.
Current law in China stipulates two types of compulsory measures taken against suspects: depriving suspects of personal freedom, including detention and arrest, as well as limiting personal freedom, which includes residential surveillance and obtaining a guarantor or bail pending trial.
Residential surveillance limits a suspect's personal freedom, and can be taken by authorities when an arrest is unnecessary, impossible or unsuitable. It is generally enforced at the suspect's home.
The primary purpose of residential surveillance is to facilitate criminal procedures by preventing a suspect from fleeing, colluding in testimony, destroying evidence or committing more crimes, said Song Yinghui, associate dean of the Law School of Beijing Normal University.
The draft restricts the use of surveillance outside suspects' homes to cases of national security, terrorism and serious bribery, and it also requires strict approval procedures, Song said.
Regarding the clauses authorizing police not to inform a suspect's family members under certain conditions, Wang said: "These clauses are an exception, and will not become regular. This is a common consensus among the Chinese legal profession."
But Chen Guangzhong, a legal expert with the Renmin University of China, warned that the use of such measures lacks supervision and lawmakers should make clear under which circumstances they can be carried out.
"It is necessary to allow the police to conduct special investigative measures when the case is complicated," he said.
"But it is also important to let prosecutors, or other parties, look over the practice since it will infringe upon people's civil rights once abused."
As for concerns that residential surveillance will be another form of detention, experts argue that surveillance is just a way to keep an eye on suspects to facilitate an investigation.
When suspects are under residential surveillance, they can still leave the place under surveillance and meet with others as long as they have approval from authorities. They should answer authorities' summons within a reasonable amount of time, and their rights to go to work or school are guaranteed.
One goal of China's laws is to strike a balance between combating crime and protecting human rights, Song said.
The draft does not violate international conventions, but instead is in line with the purposes of international law that advocate the protection of suspects' rights by using the fewest compulsory measures possible in criminal procedure, he said.
Xinhua contributed to this story.
(China Daily 09/01/2011 page3)