Blair bares all
Updated: 2011-09-01 07:53
By Jules Quartly and Mei Jia (China Daily)
| | | | | | | | | |
| --- | --- | --- | --- | --- | --- | --- | --- | --- |
|   | | Print | | Mail | | Large Medium  Small | 分享按钮 | 0 |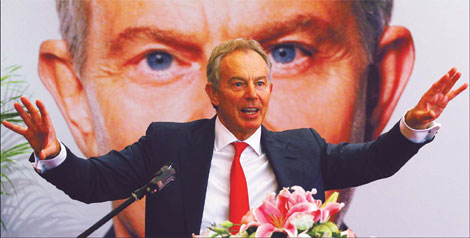 "We have to know China, understand it better, learn to live with it better," says former British prime minister Tony Blair, who was in Beijing for the launch of his autobiography in Chinese. Zou Hong / China Daily
Tony Blair's most recent visit to China was to promote his autobiography, A Journey, which has been translated into Chinese, with a new foreword. By Jules Quartly and Mei Jia.
Tony Blair, the former prime minister of Britain, winner of a record three consecutive elections and supporter of the unpopular Iraq invasion, is as lauded as he is derided four years after resigning his post as leader.
The 58-year-old's enlightening and at times humorous autobiography about his 10 years in power (1997-2007), A Journey (2010), has been translated into Chinese and Blair was in Beijing on Tuesday for the official launch.
The Chinese version of the book has a new foreword written by Blair that deals with the West's relationship with China and how it has to adapt to the new world power.
He adds in the foreword there are three questions the Chinese government and people need to deal with, namely, political reform and a rising middle-class demanding more of a say in the running of the country; economic challenges; and developing a harmonious society.
He Benguo, an editor at Yilin Press (publisher of the book), says three translators tackled the text, taking a section each, and it was then checked sentence by sentence for accuracy.
"I was moved by his vivid and humorous account of the things he went through. He's outspoken and candid, especially the part concerning (former friend and prime minister) Gordon Brown," He says.
"Blair is a good writer. He writes A Journey in a different tone to the one he adopts for the media," comments Lu Jiande, at the Chinese Academy of Social Sciences.
"I was moved by his candidness. He's eloquent and full of enthusiasm. I hope the release of the Chinese version will trigger a similar faithfulness and sense of responsibility among Chinese officials."
Chen Haiyan, general manager of Phoenix Publishing Group (parent company of Yilin Press) says Blair is a "master of the pen and no stranger to Chinese culture".
"When he was prime minister, he was a big part of the historic moments in recent Sino-British relations," Chen says.
"He was there when Hong Kong returned to the mainland. He was there when the two countries established the Comprehensive Strategic Partnership."
For his interview with China Daily later in the day at the Grand Hyatt Beijing, Blair looks toned and tanned and is in good form.
He starts off by saying that he has visited China 14 times since leaving office because he is so fascinated by the country.
Q+A | Tony Blair
There's been a big paradigm shift in the world from West to East and there's not a single global problem that can be resolved today without China's help, intervention and support. So, building the right partnership between the West and China is vital for the future and you can't do that without understanding the leadership and the people.
So, you believe the Britain-China relationship is important in the same way, say, as the Britain-United States or Britain-Europe partnership?
British-China relations are very important and there's a lot we can do together. But I think we need to be realistic about it in Britain, which is in part that we will have this relationship with China through Europe.
All the major countries in Europe like Britain, France and Germany will have their own strong relationships with China, but there is a difference in size between China and Britain today.
So size does matter and Britain can't compete?
Well, we can partner, but we can't outweigh in terms of influence or power because what has happened because of the development of technology and capital today is that GDP will once again follow or track population.
What's happening today is an inevitable paradigm shift in the 21st century that should alter the whole Western conception of geopolitics and it means that we have to know China, understand it better, learn to live with it better.
Have you ever questioned your faith?
I don't think you are ever a person of faith without having doubt. I certainly analyze and assess it, but no, faith is very much a fixed part of my life. But you know, I am not a fundamentalist about it.
I'm an atheist.
So is my dad, by the way. He finds my religion ... well he doesn't understand it. Actually he is anti-religious.
For me the important thing is a sense of spirituality. For me, religion or faith is not a set of rigid dogmas, so my foundation (The Tony Blair Faith Foundation, which has a partnership with Peking University, among other universities worldwide) is about teaching people of different faiths to learn from each other and learn to live with each other.
What came first for you, politics or religion?
Well, it's not quite like that. I actually got into religion and politics at the same time. I always say to people when they ask me, did my faith lead me to certain decisions and all that, no. I'm afraid faith can't tell you the right policy answer.
I read that Alistair Campbell (Blair's former press secretary) said you had a "wobble" about the decision to invade Iraq after reading the Bible.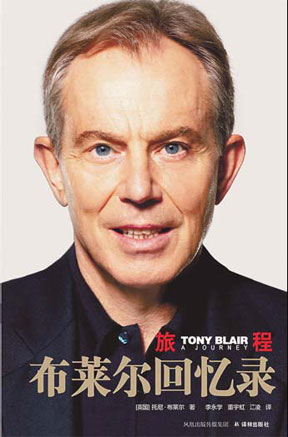 What's true always is that with the big decisions like Iraq, Afghanistan, military interventions, you would be wrong if you didn't analyze with some doubt because obviously these are tough decisions.
Would you agree that one of your biggest achievements was before you came into power, when you transformed the Labor Party?
Sometimes, when I'm playing tennis I try a really difficult shot and fail and I say to myself, 'Great idea, badly executed.' And the Labor Party for a lot of its history was a great idea but badly executed. So, what I really wanted to do was make it a force that was capable of governing for significant periods of time.
You created New Labor, but in your book you suggest it reverted to Old Labor after you left.
Well, we didn't exactly change back to Old Labor, but we stopped being New Labor. The thing about this is that it's an idea, an attitude of mind, and it's constantly trying to get to the next frontier, the future, modernization, because the world is changing so fast.
In regard to the British public's attitude to you, you use the metaphor in your book of falling in and out of love.
Well, that's the journey of modern politics in a way. But on the other hand there are parts of the British media that try to portray me as someone who the British people really fell out with.
But, I won three elections, I didn't lose them. So, it wasn't as if there wasn't real support as well and I still think the basic New Labor position still has enormous support. Or, potential for support.
And you know, people see so much of their leaders now. After six months they feel they know them extremely well, and after a year they feel they know them too well. So, this is the way leadership is today.
So, do you think Britain ought to move to a more Chinese system?
(Pause) I think, each country to it's own system.
What do you think in the book will appeal most to Chinese readers?
The thing I hope will most appeal to Chinese readers is that it is an intimate account of being a leader and it doesn't matter whether you are a British leader or any sort of leader. It describes what it's like. Otherwise, some people think leaders come from outer space but actually we're humans. We're Earthlings.
How do you think London will host the Olympics, compared with Beijing?
Well, I think London should do it differently, because Beijing was a spectacular to end all spectaculars. I visited the London site a few weeks ago and it looked to be in great shape. I think, this will very much be a chance for people to see modern London, a modern Britain.
You wrote an interesting commentary on the London riots. Your case is that Britain isn't broken, right?
What happened was terrible, but it's a social problem and after 10 years of dealing with this as prime minister I came to the conclusion that it's a social problem of a very specific nature.
When people look at us from abroad, if they end up thinking this is what Britain is like they'll end up with the wrong idea.
I'm British and I think that is what Britain is like.
Well, I think that when we look at Britain we see there is too much of this sort of thing, but we don't actually think it's the majority.
Not the majority, no, but a significant minority.
Well, I think a tiny minority. I think it is very located in certain places. OK. Last question.
It's the Gordon (Brown) question. Sometime there's going to be an occasion where previous prime ministers are gathered. Is this going to be when you kiss and make up?
Right (laughs good heartedly), let's just hope we're not in our bath chairs by the time that happens.
(China Daily 09/01/2011 page18)