Beverages bring babies back?
Updated: 2011-08-27 07:53
By Xu Lin (China Daily)
| | | | | | | | | |
| --- | --- | --- | --- | --- | --- | --- | --- | --- |
|   | | Print | | Mail | | Large Medium  Small | 分享按钮 | 0 |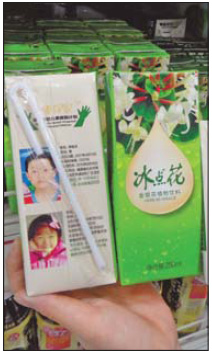 Drink cartons with photos of missing children are an innovative effort to help bring them home. Liu Shan / for China Daily
BEIJING - The photo of 8-year-old Rong Yuexi is drawing the attention of supermarket shoppers.
Rong, who was abducted on his way home from school in Xichang, Sichuan province, this January, now has his picture printed on cartons of Ice Point Honeysuckle Herb Beverage.
Each carton has photos of two missing children - 20 in all - along with information such as their names, ages and where they were last seen.
As the first soft drink in China specially designed to locate missing children, the beverage hit the shelves in May and sells for 2.5 yuan (39 cents) per carton. It mainly sells in Southwest China, such as Chongqing municipality, and Sichuan and Guizhou provinces. About 500,000 boxes have already sold.
"It's more efficient than traditional ways such as distributing flyers, as more people can see it and spread the information quickly," said Gan Xiaoli, 47, general manager of Chongqing Meiduo Food Co Ltd. The company spent about one year developing the beverage with Chongqing Hongye Group, with an investment of nearly 30 million yuan.
She said the idea struck her two years ago during a conversation with her daughter's homestay family in Seattle, who told her some American companies have printed photos of missing kids on milk cartons since the 1980s.
"Honeysuckle symbolizes maternal love. There's a famous children's song in Chongqing and Sichuan named Honeysuckle about a mother taking her child home," she added. "Many Chinese mothers mix honeysuckle lotion with milk or water to feed their kids, to clear away heat and toxic materials."
According to Gan, cartons with new pictures will come out next year and many of the 20 children have been missing less than half a year, so their appearances haven't changed much.
"The beverage also sells in areas where the kids went missing. Those who see the child can call the police or dial our free hotline on the carton. Volunteers from our company will help them," Gan said.
But no such call has been received yet. Gan said more promotion is needed and there's still a long way to go.
The missing children's information was provided by Baobeihuijia - literally "baby back home" - a volunteer group that searches for missing kids and offers help to distraught parents.
There is information in the group's database on more than 7,000 missing children, about 80 percent of whom were abducted.
"We're more than happy to let more people know about it. Even if there's a slim hope to find these children, other parents will become more alert and avoid similar tragedies," said Zhang Baoyan, 49, who founded the association in 2007.
Zhang said it was not the first time the association has had such cooperative projects, as they've worked with seven or eight companies to make children's products such as shoes and snacks.
"Our volunteers also make special poker cards, fans and calendars with missing children's photos printed on them," Zhang said.
However, Zhang admitted the effect was not easy to see, as most of the companies are small, and the output of the product is limited.
"I've talked with one big corporation recently but they quit in the end. It costs a lot of money to redesign a package and to produce it. Moreover, customers usually shop for pleasure but seeing a missing kid's photo may make them depressed," Zhang said.
"It takes a long time to find a missing child. The situation is much better as there is a nationwide DNA database for children with obscure origins and parents of missing children," Zhang said.
She suggested parents keep an eye on their kids, and to call the police if they see kids with obscure identities.
For parents of missing kids, this kind of promotion is like rain in a time of drought.
"It's worth a try, but I have no news yet. Although it's like looking for a needle in a haystack, I won't give up as long as there's hope," said Gu Qin, mother of the missing boy Rong Yuexi.
She has hired a man to go to Shandong and Fujian provinces to track her son and promised 200,000 yuan in cash if he finds her son.
"Finding the kids depends mostly on the police. The best distribution of the children's information is through mass media, such as newspapers and TV. It would be better if there is a long-term non-profit advertisement on TV," said Zhang.
China Daily
(China Daily 08/27/2011 page1)