Chinese market furnishes Ikea's expansion plans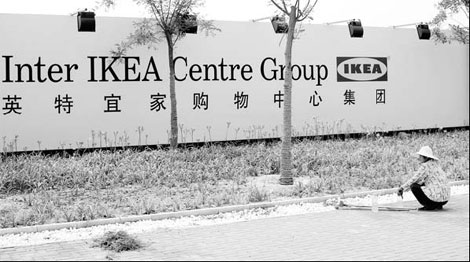 Ikea Group now operates nine stores in China and aims to have 17 by 2015. Keith Bedford / Bloomberg
SHANGHAI - The Swedish home-furnishing giant Ikea Group plans to continue accelerating its expansion in the Chinese market, with a target of having 17 stores across the country by 2015, according to a company executive.
The plan includes new stores in Wuxi, Jiangsu province, and the municipality of Tianjin in 2012.
The company also plans to open a second store in Beijing, a third outlet store in Shanghai and a new store in Ningbo in Zhejiang province in 2013, according to Gillian Drakeford, Ikea China's retail president.
She said that in addition to a dedicated store in Wuhan, the company has also secured a site for a third store in the Changping district of northern Beijing, and is considering opening a second store in Guangzhou by 2015.
To support the expansion of its outlets, Ikea also aims to triple staff numbers by 2015.
After 2015, "our retail expansion will 'Go West'", Drakeford added.
After 13 years in China, Ikea now operates nine stores in locations such as Beijing, Shanghai, Guangzhou, Chengdu, Shenzhen, Nanjing, Dalian and Shenyang.
"Our expansion plan started in 2008, 10 years after Ikea became established in the local market with only four stores. And the successful results from the new stores we opened during the past two years proved that our business model of building our own stores does work here," Drakeford said.
"That gives us the confidence to further continue our ambitions in China market."
Ikea's business in China is still relatively small compared with its global network of 324 stores in 38 countries, and the Asian market only contributes 6 percent to the company's global revenue.
However, Drakeford said that the rapid expansion will make China one of Ikea's top 10 markets by 2015.
"And we hope China will be one of Ikea's biggest markets in 10 to 15 years," she added.
During the company's 2011 fiscal year, which will end on Aug 31, Ikea China's business has grown 20 percent to 4.9 billion yuan ($7.7 million) from a year earlier, Drakeford said.
"We've also seen year-on-year growth of 27 percent in visitor numbers to more than 32 million during the past fiscal year," she said.
This year the Swedish company is launching its "Ikea Business" in China, providing a tailored furnishings solution service to people "who have two wallets, one for home and one for business".
The new project will help customers to create their own business environment.
Drakeford also said that although Ikea's surging business in recent years has been partly driven by China's booming real estate market, "we see huge potential in the future, even when China's real estate sector slows down, as more Chinese people pay attention to lifestyle and always want to improve and change their life at home".
China Daily
(China Daily 08/26/2011 page16)
Today's Top News
Editor's picks
Most Viewed