Family helps Campbell cope with Alzheimer's
Updated: 2011-08-25 07:40
By Chris Talbott (China Daily)
| | | | | | | | | |
| --- | --- | --- | --- | --- | --- | --- | --- | --- |
|   | | Print | | Mail | | Large Medium  Small | 分享按钮 | 0 |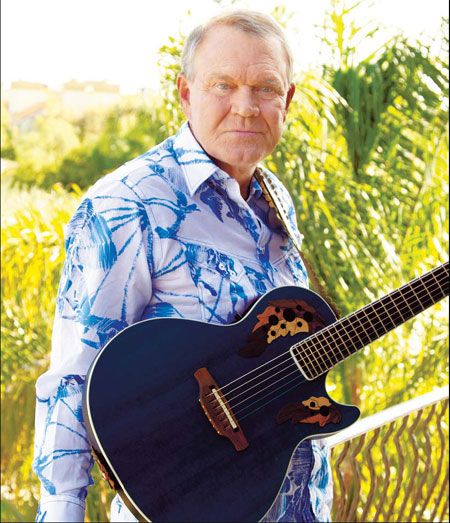 Musician Glen Campbell poses for a portrait in Malibu, California, on July 27. Campbell, who was diagnosed with Alzheimer's disease, is planning a farewell tour before retiring. Matt Sayles / Associated Press
BILOXI, Mississippi - Singer Glen Campbell is having a great time.
Make no mistake, it is tragic that Alzheimer's disease is slowly stripping away the memories and abilities that define one of music's greats. But day-to-day, surrounded by his family and friends, encouraged to play his guitar and sing and golf and joke, the 75-year-old Campbell is often smiling.
"I'm really not worried about anything," Campbell said. "You know those people who say, 'Oh, geez, I wonder what's going to happen tomorrow?' Tomorrow's cool. Just don't mess it up. It's just wonderful. I think where I am at right now in this universe, I wouldn't want to be anything else than what I am."
The Zen of Glen has been reached through the hard work of his wife, Kim, his children and his business associates who often are as close as family. They have created a carefully engineered environment meant to shelter and encourage Campbell at every turn, whether he is at home or on the road.
The Campbell family allowed The Associated Press a glance at the Country Music Hall of Fame member's life during a recent visit to Biloxi, Mississippi, where Campbell played his first show last month since announcing he has Alzheimer's, a degenerative brain disease that so far has proven incurable.
That show was a dry run in preparation for a string of dates overseas this year, and for a goodbye tour next year in support of his last studio album Ghost on the Canvas, out on Aug 30.
"What's really fun is it's not like work now because I've got my kids here, and my wife here, and they're all playing," Campbell said.
There are indeed moments of confusion, memories that refuse to coalesce and words for simple things that remain just out of reach. But for the most part, Campbell does not realize he has Alzheimer's. He is untroubled by the gravity of it all.
Gently reminded of the diagnosis he said: "It hasn't come by yet."
"You get a little forgetful," Kim said.
"Well, it may look like that, but I don't want to hear it sometimes. That's an old trick."
And everyone laughs. Out of sadness, a smile.
"We call it part-timers," Kim said. "You just never know. Some days are great, and some days he maybe repeats himself a little. On stage a couple of times he might forget what key a song is in, which 20 years ago might never happen."
It started with simple forgetfulness about 10 years ago. Early on, doctors gave less dire diagnoses. As it advanced, there was confusion and anxiety: The family wonders if the disease contributed to a short return to drinking that resulted in a drunken driving arrest in 2003.
Recently California took away his driver's license. Kim avoided telling him as long as possible, finding excuses to drive them everywhere they went.
She is afraid he's slipping from the early stage to the middle stage of the disease, and there is no predicting how long he will be able to perform. The album and tour dates are the family's way of helping him stay anchored in the present.
"I do get nervous about his ability to stay on track and read his teleprompter and remember his chords," Kim said. "So far everything's been pretty good. Eventually I expect if this progresses as it normally does, we'll start to have problems. So we're preparing to get him off the road and retire, but we wanted to go out with a bang. He wants to do it as long as he can, but the scary thing is you don't know when the shoe's going to drop. We're all worried that if we stop, he'll get worse more quickly."
Associated Press
(China Daily 08/25/2011 page10)