More high-speed trains slow down to improve safety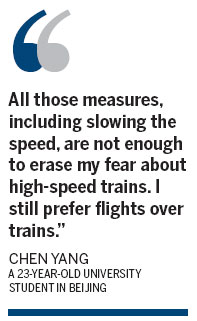 BEIJING - More high-speed trains will slow down starting Sunday to increase safety, rail authorities said.
The announcement comes as media disclosed new problems with one model of the high-speed train.
Rail authorities said that the last 350 km/h rail service between Shanghai and Hangzhou will slow to 300 km/h starting Aug 28. Seven other lines that had operated at 250 km/h will now go 200 km/h.

Today's Top News
Editor's picks
Most Viewed