Coach K in memorable place
Updated: 2011-08-22 07:45
By Dusty Lane (China Daily)
| | | | | | | | | |
| --- | --- | --- | --- | --- | --- | --- | --- | --- |
|   | | Print | | Mail | | Large Medium  Small | 分享按钮 | 0 |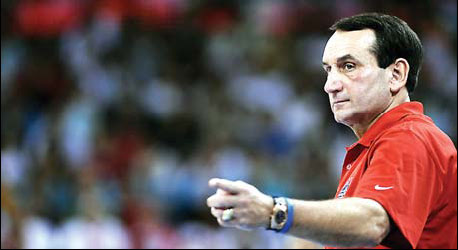 Coach of the US team Mike Krzyzewski gestures during a men's preliminary match at the 2008 Beijing Olympics against Greece on August 14, 2008 in Beijing. Krzyzewski is in Beijing with the Duke University team. Filippo Monteforte / Agence France-Presse
Legendary Duke and US boss happy to be back on the floor of Olympic triumph
BEIJING - Mike Krzyzewski returned on Sunday to the building that is home to his fondest memory.
He wasn't about to let somebody else's mess ruin it.
Krzyzewski, coach of Duke University and the United States national team, brought his Blue Devils to the MasterCard Center to put on a clinic for local children as part of the Friendship Games.
The last time he was in the building, the US defeated Spain for the gold medal at the 2008 Olympics.
"It's been great, you get chills," Krzyzewski said. "When we won, when they raised the flag and played our national anthem and you know that you just won the Olympic gold medal - I think that's the greatest experience for any coach in any country at any level, and that's the greatest moment of my coaching career."
The Blue Devils will face the Chinese Olympic team at 8 pm on Monday at the MasterCard Center, formerly known as the Wukesong Arena.
Of course, the last game in Beijing involving an NCAA team ended in an ugly brawl on Thursday between China's Bayi and Georgetown University.
Krzyzewski didn't want to discuss it, and said he hadn't spoken with Hoyas coach John Thompson III since the incident.
"I have no idea about the brawl - I have no idea about it," he said.
What Krzyzewski was willing to discuss was China's untapped potential on the court, pointing out the country has more basketball players than the US has citizens. Now China has up 300 million people playing basketball, according to the Chinese Basketball Association, and the figure keeps growing.
"What I would like to see the youngsters in China be able to do is to have some exchange, not just in college, but before that, to come to high schools," he said. "You can learn about the game (in China), but if you really want to learn about the game, it's just like a language - if you want to learn Mandarin, you come to Shanghai or Beijing. Same thing with basketball, you have to immerse yourself in it.
"I'd like to see it at the high school level. And then I think some of them them would go to colleges ... I think that's the evolution really. It's not just going to be the NBA."
Duke is coming off two victories so far on the tour.
The Devils opened on Wednesday with a 77-64 win over the Chinese Olympic team in Kunshan, where Duke is opening an extension campus.
The team won again, 78-66, in Shanghai on Thursday in their second encounter. After tomorrow's game, Duke will travel to Dubai to finish its overseas sojourn.
Krzyzewski sees the tour as means to be an ambassador for the US.
"A long time ago there was ping-pong diplomacy - which was good but this is much better and spreads throughout," he said. "When people come from different cultures, there's a little bit of the unknown, and when you put a known there and see there's a love of the same thing, you see there's other things you can share."
The Blue Devils visited the Forbidden City early on Sunday, and planned to stop by the Silk Market in the evening.
Today will see a meeting between Krzyzewski and retired NBA all-star center Yao Ming, who will attend tonight's game.
"Yao is a great man," Krzyzewski said. "He's exteremely intelligent and he's just a great guy. I've gotten to know him and I have a friendship with him. If he was an American he would have been on our Olympic team - he's that good."
So, what needs to fall into place for China to produce another player of Yao's caliber?
"The team that we're playing (in China), they have players who could definitely be collegiate players and then depending how they grow could be NBA players," Krzyzewski wsaid. "I think China has more 7-footers than any other country. When do you start developing them? Wait too long, and some of the habits don't get developed."
Yu Yilei contributed to the story.
China Daily
(China Daily 08/22/2011 page24)