Right to rewrite?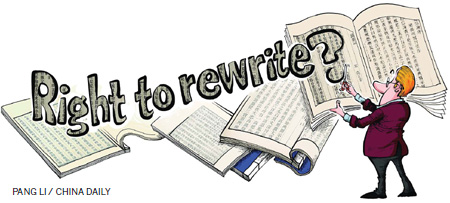 Criticism of Chinese authors includes the claim the only reason some have an international following is because their translators have done such a great job. Chitralekha Basu stirs up a hornet's nest.
At a recent public event in Beijing, Bonn University academic Wolfgang Kubin reiterated how disappointed he was with Chinese fiction in its current state. A passionate advocate of contemporary Chinese poetry and an acclaimed translator, Kubin says Chinese novelists cannot handle long works of fiction. Kubin attributes the success of Jiang Rong (Wolf Totem), Su Tong (The Boat to Redemption) and Bi Feiyu (Three Sisters) in the international arena to the intervention of translators who, he says, are rewriting the original texts to make them more presentable to a Western audience.
Significantly, the translator of all three books mentioned above is Howard Goldblatt, a professor of Chinese at the University of Notre Dame, and generally recognized as the doyen among the translators of Chinese fiction in English, with more than 40 titles in print.

Today's Top News
Editor's picks
Most Viewed