Is China really 'Cyberdragon'?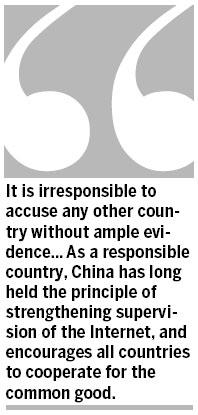 Hacking poses a threat to both China and Western countries and politicizing the problem will be detrimental to all
Earlier this month, McAfee, the US cyberspace security company, released a report on its investigation into targeted infiltrations of the computer systems of more than 70 global companies, governments, enterprises and non-profit organizations over the last five years, which it grouped together under the label Operation Shady RAT.
Some Western media outlets immediately jumped to the conclusion that the hacks were a unified attack from a single source and quickly pointed the finger of blame at China, partly because of McAfee's carefully worded comment about the hacks on national Olympic Committees, the International Olympic Committee (IOC) and the World Anti-Doping Agency in the lead-up and immediate follow-up to the 2008 Olympics.

Today's Top News
Editor's picks
Most Viewed