Govt urges action on grasslands
Updated: 2011-08-13 07:49
By Zhao Yinan and Shao Wei (China Daily)
| | | | | | | | | |
| --- | --- | --- | --- | --- | --- | --- | --- | --- |
|   | | Print | | Mail | | Large Medium  Small | 分享按钮 | 0 |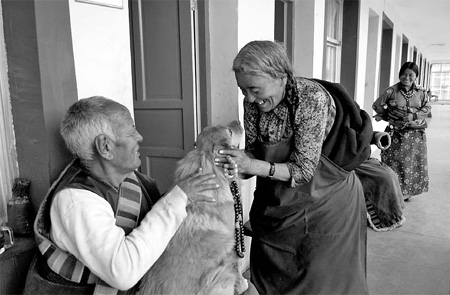 A Tibetan couple pet a dog at a home for the elderly in Xiahe county, Northwest China's Gansu province. The pair receive financial aid from local authorities after leaving nomadic life to settle down. Gao Jianjun / Xinhua
Time frame set for nomads' land titles, relocation
BEIJING - The central government has called on local authorities to accelerate the settlement of nomadic herders and the establishment of their quiet titles on contracted grasslands, in an attempt to improve the nomads' living standards and protect their property rights.
In a statement issued on Tuesday about securing "sound and fast development" in pasturing areas, the State Council, China's Cabinet, urged its departments and local governments to "basically complete the relocation and settlement of nomads by the end of 2015", in order to raise average incomes and accessibility to basic public services in these areas.
It also pledged to complete at least 80 percent of the household contract responsibility system in grasslands by the end of 2015 and to impose strict limitations on the conversion of land use from grasslands to construction land, so as to protect the property rights of local herders.
The household contract responsibility system, a fundamental economic practice in China first introduced to agriculture in 1982 and later adopted in other sectors, replacing the egalitarian distribution method, passes the profits, or losses, directly to households, instead of the government, motivating the initiative of workers.
The new policy, issued before the second national pasture conference - 24 years after its first meeting - marks a significant move for the government to improve the protection and exploitation of grasslands in China.
At least 3.5 percent of China's 1.3 billion people live in grassland areas, most of them in six main pasturland areas, including the Xinjiang Uygur, the Inner Mongolia and the Tibet autonomous regions. Grasslands make up more than 40 percent of the country's territory.
In Northwest China's Xinjiang Uygur autonomous region, home to 272,100 herding households, the central government allocated 715 million yuan ($112 million) to a local relocation and settlement program this year, which will benefit more than 760,000 local herders at its completion in 10 years.
By the end of July, about 37 percent of herders in Xinjiang had been relocated, while the other more than 60 percent remain nomadic, according to the regional development and reform commission.
Liu Shurun, a botanist and grassland ecologist from Inner Mongolia University, told China Daily that he is "concerned" about whether the herders, who are accustomed to the wild, can adapt to urban life.
Yigtai, a 52-year-old herder at the Kalajun Grassland in Xinjiang's Ili Kazak autonomous prefecture, now raises 100 sheep and 15 horses, earning about 30,000 yuan a year.
The Kazak herder said he is "very satisfied" with his current life on the pasture and is not willing to relocate to start an urban life.
"I was born on this pasture. So were my father and my grandfather. I can't survive without herding," said Yigtai, who has never been in a city in his life.
Maulem and his wife used to have the same idea as Yigtai before they moved into their new apartment in downtown Hebukesaier in the Xinjiang's Tacheng prefecture in July.
"I've spent most of my life in pastures and on horseback, following my cattle, from summer to winter," said the 70-year-old Mongolian herder. "To tell the truth, I still can't get accustomed to urban life. But living in the city is much more convenient than in the pasture. My three children can get a better education, and we old people can get better medical treatment in the city.
"We herders have to change our old lifestyle, because the grasslands are limited. Nowadays, three herding households have to share a grassland that used to belong to one," he said.
As to the establishment of households' quiet title of grasslands, Chen Jiqun, a pasture oil painter who runs a nonprofit website for pasture protection, argued it is "challenging" for local governments to complete such a task in less than five years.
"About 99 percent of quiet titles of grasslands in Inner Mongolia have not been established, and that has given rise to increasing land ownership disputes and even social disturbances," he said.
Chen said since most of the households have not obtained their quiet title on their grasslands, some have lost the opportunity because the land has meanwhile been designated for other uses such as mining and thermal power programs.
The Inner Mongolia autonomous region, the country's largest pastureland area, which is also known for iron ore and rare-earth reserves, replaced neighboring Shanxi province as the country's top coal producer last year, local authorities said.
China Daily
(China Daily 08/13/2011 page4)