HTC, Unionpay target mobile wallets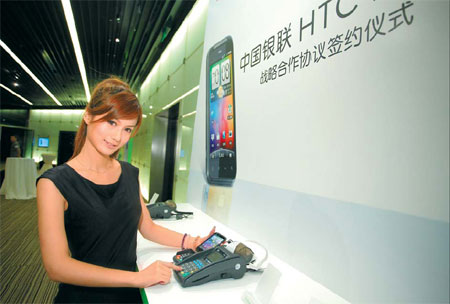 An HTC Corp smartphone with near field communication technology being used with a point-of-sale (POS) machine. There are currently 400,000 POS machines in China capable of mobile payment and that number is expected to increase to 700,000 by the end of this year. Provided to China Daily
SHANGHAI-China UnionPay Co Ltd announced on Tuesday the launch of the first smartphone with built-in mobile payment capability, jumping ahead of domestic rivals in the world's most populous mobile phone country.
China UnionPay, the country's sole bank card processor, said the world's first mobile phone that supports UnionPay's mobile payment standard will be produced by Taiwan-based HTC Corp, and the product will arrive on the market as early as September.
The handset utilizes near field communication technology, which allows users to complete payments through banks' point-of-sale (POS) machines.
The smartphone supports various functions, such as credit card payment, booking movie tickets and paying mobile phone subscription fees.
HTC declined to reveal the specific number of its bank partners in the Chinese mainland or the price of the handset.
"Mobile phone users no longer have to bring their bank cards in the future, because their smartphones can provide the same function," Chai Hongfeng, executive vice-president of China UnionPay, said at a news briefing in Shanghai.
Chai added that the launch of HTC's mobile payment handset could spearhead China's mobile payment era, as mobile phone use is now a part of daily life.
He said mobile payment could quickly gain popularity, provided that it offers increased convenience and security.
He also disclosed that China UnionPay is deploying initial strategic arrangements in about a dozen Chinese mainland cities, in cooperation with local banks to push forward mobile payment businesses.
Xu Jinyao, general manager of China UnionPay's mobile payment department, recently said there were already 400,000 POS machines in China and these are likely to increase to 700,000 by the end of this year.
"HTC has been developing the mobile payment handset for more than a year. We cooperated with China UnionPay for merely six months before we introduced the device," Dennis Chen, head of the Asia and China Enterprise department of HTC Corp, told China Daily.
"We support China UnionPay's mobile payment standard because it is an industry standard and is open for any mobile devices. It means customers will have more choices," Chen said.
Chen added it is very likely that China UnionPay may promote its mobile payment services beyond China. At present, the Chinese bank-card processor provides services in more than 120 countries.
The market scale of China's mobile payment industry reached 20.3 billion yuan ($3.16 billion) in 2010, according to China E-commerce Research Center.
The organization estimated China's mobile payment market would experience an annual growth rate of 40 percent, an amount equal to 150 billion yuan, by 2013.
The rosy prospect has attracted various companies to join the bandwagon by profiting from China's 900 million mobile phone users. Chinese telecom carriers have showed the most interest.
"The mobile payment industry has experienced a best-ever period in development, as more people use smartphones and wireless networks have faster speed. But so many players are in the hunt now. It means that not every one can be a winner," said Zhang Meng, an analyst with Beijing-based research firm Analysys International.
China Mobile Ltd, the world's biggest telecom carrier by subscribers, bought a 20 percent stake of Shanghai Pudong Development Bank last year to strengthen its mobile payment services.
China United Telecommunications Corp Ltd (China Unicom) established a mobile payment arm on April 18 with registered capital of 250 million yuan, the carrier said on its micro blog.
The new subsidiary will "actively apply for a mobile payment license and provide professional payment services", China Unicom said.
China Daily
(China Daily 08/10/2011 page15)
Today's Top News
Editor's picks
Most Viewed