Ringing the changes
Updated: 2011-08-08 08:01
By Shen Jingting (China Daily)
| | | | | | | | | |
| --- | --- | --- | --- | --- | --- | --- | --- | --- |
|   | | Print | | Mail | | Large Medium  Small | 分享按钮 | 0 |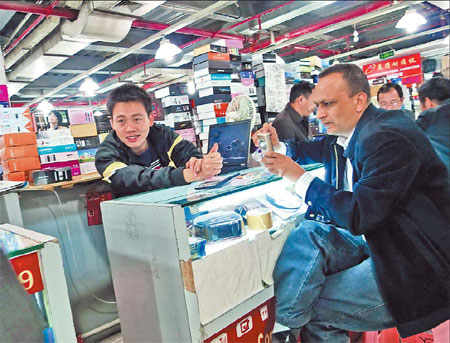 A customer from the Middle East (right) chooses a shanzhai (copycat) cell phone at a market in North Huangqiang business street, Shenzhen. Zhang Xiaoyu / for China Daily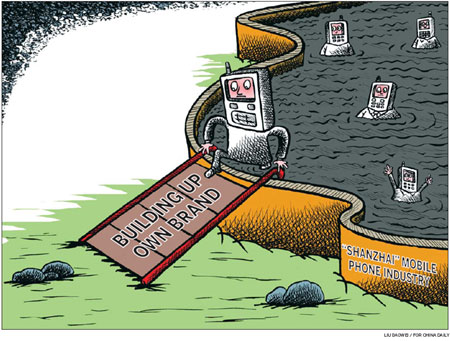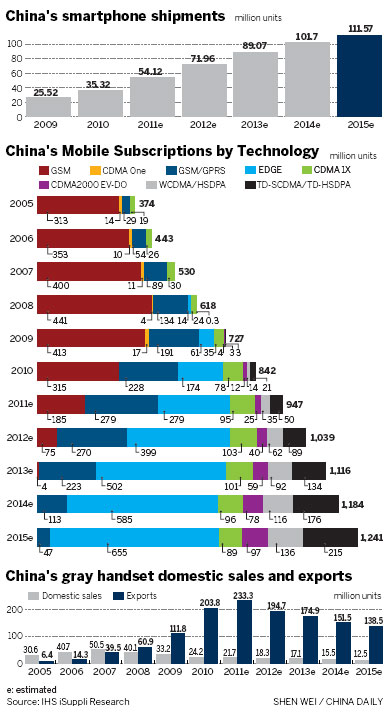 A coastal city is leading the global charge of China's mobile phone industry, as Shen Jingting reports from Shenzhen.
Nokia Corp's chief executive officer, Stephen Elop, might be surprised to learn that he was the subject of intense discussions among many people in Shenzhen when he paid a low profile visit to this southern Chinese coastal city in May.
Sporting his familiar "buzz cut", Elop, who assumed control of the world's biggest supplier of mobile phones by shipments in September, took a trip to North Huangqiang business street in central Shenzhen. The street has been renowned as China's biggest distribution center for mobile phones since the late 1990s.
Elop's visit thrilled many people in the city, which has flourished in recent decades largely because of its unparalleled mobile-device production chain and is probably home to thousands of handset manufacturers.
"Eventually, Elop felt the chill," said Chao Qing, an official at one of Shenzhen's "no-brand" mobile phone factories, with reference to the current woes afflicting the Finnish phone maker. In addition to well-known rivals such as Samsung Electronics Co and Apple Inc, Nokia is also under siege from Chinese-made handsets in many emerging markets, including China - and most of them are produced in Shenzhen.
Chao said the city's mobile device manufacturers are good at moving fast, producing a wide variety of handsets that precisely meet customer demand, although at present, the most-targeted group is people on low incomes.
"Elop should really have come to Shenzhen earlier, so he could have seen our methods for himself and learned a few tricks," commented Chao.
The Nokia CEO has had his work cut out attempting to stave off a sales decline in emerging markets and averting further crises since he took up his position.
The mobile phone has become another typical "Made-in-China" (MIC) product, following on from DVD players and TVs, said Chao. "However, unlike the ups and downs we've seen before, we hope to build a long-term business this time around."
Getting connected
Global handset sales (both legitimate and "gray" market) reached 1.47 billion units in 2010, an increase from the 853 million recorded in 2005, according to data from the researcher Strategy Analytics.
MIC handsets (including Hong Kong, but excluding Taiwan) accounted for approximately 65 percent of global sales in 2010, up from just 19 percent in 2001and 40 percent in 2006, said Linda Sui, a US-based consultant with Strategy Analytics.
Among those MIC handsets, approximately 70 percent were manufactured in Shenzhen, said Sun Wenping, secretary-general of the Shenzhen Mobile Communications Association.
Sun, an energetic man, can talk endlessly about how amazing Shenzhen is. He frequently tells friends that the city is "the world's mobile phone center".
"If you want to buy perfume, people think of Paris. If you want a mobile phone, Shenzhen should be your choice," he said.
Sun said that there are about 3,000 phone manufacturers in the city, including some big names such as Huawei Technologies Co Ltd, ZTE Corp and TCL Corp.
Their combined output was 890 million mobile phones with a value of more than 370 billion yuan ($57.47 billion) in 2010.
Unlike Apple, which probably takes a year to research and test a new model, Shenzhen's mobile-phone manufacturers have a much higher productivity rate.
"From the idea to the actual product hitting the market, the fastest Shenzhen producers only need 20 days," Sun said.
The price is low, too. Since Taiwan-based MediaTek Inc provided so-called "turnkey solutions" - comprehensive manufacturing equipment and support - which greatly reduced costs for low-end mobile phone makers in the mid-2000s, the average price of exported MIC cell phones has fallen to as little as 280 yuan a unit, or even lower, Sun added.
Meanwhile, Shenzhen's mobile phone designers are not lacking in creativity. There are specialized phones for divers, which allow the use of a number of functions 100 meters below the surface of the water, and even handsets that can withstand high temperatures and are, therefore, helpful to fire fighters.
Parents can buy mobile phones fitted with a global positioning system, which allows them to track their children's location and check that they are in a safe place.
And they're fashionable: Some handsets are shaped like a sports car, while others resemble a stiletto shoe.
C.K. Lu, senior mobile device research analyst at Gartner Inc, said two of the most obvious characteristics of MIC mobile phones are "special features tailored to different user segments and a rapid response to market trends".
Decline of shanzhai
MIC mobile phones usually fall into three categories. The first refers to handsets made by the Chinese manufacturing bases of global brands, or original design manufacturer (ODM) partners, which carry global brands and are shipped globally though those companies' own logistics systems.
The second refers to handsets made by domestic companies (such as Huawei, ZTE and Lenovo Group), or original equipment manufacturer (OEM) partners, which bear Chinese brands.
Shanzhai (copycat) mobile phones - that is handsets with unknown or unidentifiable brands - belong to the third category. "They are made by hundreds, or even thousands, of 'gray' manufacturers mainly located in Shenzhen and the surrounding areas," said Linda Sui.
She pointed out that shanzhai handsets, also known as "white-box" phones, often have no valid International Mobile Equipment Identifier numbers. That means the handsets are not subject to the regular testing processes and manufacturers can avoid paying a multitude of taxes.
North Huaqiang business street may now be famous as one of the largest mobile-phone distribution centers, but it was once equally famous for selling shanzhai models.
Cao Xiaohui, from Henan province, who has run a small counter in the Yuanwang Digital Mall in the North Huaqiang business district for more than three years, said shanzhai sales are falling.
"The price of branded handsets is dropping, which attracts more buyers. Meanwhile, people tend to buy smart phones now because they have many fun applications," Cao said.
Kyle Sun, a mobile-terminal analyst at the German research firm GfK Group, said sales of shanzhai handsets have declined rapidly in the domestic market since the beginning of this year.
"Domestically speaking, the major market for shanzhai products is in the rural areas. However, many branded phone companies have managed to build up a presence in fourth- to sixth-tier cities, by selling their wares at prices comparable with shanzhai products," said Sun.
In addition, international brands are also penetrating the rural market through the sale of low-end devices or subsidized mobile phones, he added.
The profit margin of shanzhai products is being dramatically squeezed because of the increasing costs of labor and materials, in addition to rising logistics costs associated with fluctuations in the price of oil, according to Strategy Analytics' Sui.
A government crackdown has also had an impact: in shenzhen's North Huaqiang business street, hundreds of shanzhai retailers have drawn back and ceased trading since the end of last year, leaving empty counters in the marketplace.
More importantly, third-generation (3G) technology has also taken off in some emerging markets, including China.
There is stricter control on intellectual property rights for 3G phones, as well as the increasing importance of the mobile ecosystem - the relationship between all the companies involved in the industry, from chipmakers to phone manufacturers- which have conspired to push shanzhai phones into a disadvantaged position compared with legitimate products.
"We forecast the gray phone industry will further slip on a global basis," Sui told China Daily.
However, providing that they can accumulate sufficient capital and research and development sources, a shift toward legitimate production would be a good move for some shanzhai makers, she added.
"We do see shanzhai phone producers building up their brands in China and globally. Vendors also want to sell 3G and smart phones, but they have not been able to affect the market yet," Gartner's C.K. Lu pointed out.
"White-box manufacturers also face a risk if they become bigger because a higher profile means that they may attract legal action from the global brands," Lu added, referring to G'Five International Ltd, a Shenzhen-based handset supplier that mainly sells phones in Asian and African countries, and was sued by Nokia in India for alleged infringement of intellectual property rights.
Going global
Zhang Xinsheng, an official at the telecom regulatory department of the Ministry of Industry and Information Technology (MIIT), said that 1.15 billion mobile phones were produced in China in 2010, but only 380 million handsets were traded domestically.
"A huge number of MIC mobile phones were exported last year," Zhang told China Daily.
He said that because MIIT issues mobile-network-access licenses for each device, it knows the exact number of mobile phones sold nationwide at any given time.
Strategy Analytics has estimated that approximately 70 to 75 percent of handsets produced in China were exported in 2010. The researcher also discovered that many small and medium-sized Chinese handset manufacturers only conduct export business.
Some Chinese mobile phone companies, such as G'Five and Tecno Telecom Ltd, may not be famous domestically, but are the among the top phone vendors in countries such as India and Nigeria.
The major markets for MIC phones are Southeast Asia, Africa, Latin America and Eastern Europe, according to Sun Wenping of the Shenzhen Mobile Communications Association.
"Chinese mobile phones are spreading across the world," Sun said.
Huawei, for example, has been the No 1 phone supplier in Venezuela for the past three years. It has sold 2 to 3 million handsets in the country every year since 2008 and accounted for 30 percent of market share in terms of shipments in 2010, said Zheng Fujiang, head of the company's China communications department.
The future roadmap
There are three development stages for MIC phone manufacturers. They are likely to produce shanzhai phones first and pour their products into the emerging markets, such as India and Nigeria, in addition to the domestic market.
Then they are gradually transformed into legitimate suppliers because of the pressure of the market environment. Meanwhile, they foster a good relationship with operators in the emerging markets and make customized products for carriers.
Sometimes, they also work for international brands, such as Motorola Mobility Inc and Samsung Electronics Co, to provide mobile phones for the big-name companies.
However, in the third stage, Chinese phone makers are likely to display an ambition to establish their own brands and target the more mature and profitable markets in Europe and North America. The Taiwan-based HTC Corp, is a typical Chinese mobile-phone producer, in that it has entered the market at the third-stage.
Most Chinese phone suppliers recently entered during the first or second phase, despite having been in operation for some years, according to Dave Dai, chairman and CEO of the Shenzhen-based phone maker, Cellon Group.
A number of companies, including Huawei, ZTE and TCL, have started to build their brands and make a name in the European and the US markets, he said.
Located in Shenzhen's newly established Nanshan Technology Park, Dai's office is near the buildings of TCL and ZTE. "In the arena of the global mobile phone market, we are competitors, but we work almost face to face."
Cellon entered the Latin American market in 2007 and has achieved an unexpectedly good performance there. The company doubled its revenue every year from 2007 to 2010, to $500 million last year.
At the beginning of this year, Cellon signed a contract to sell phones to one of the top three US telecom operators.
"The North American market has the strictest standards and the highest threshold, but on the other hand, it means you face fewer competitors there," Dai said.
Cellon is aiming to become a major provider for at least one of the top three US operators in the near future. Although it doesn't make phones under its own name at present, Dai said that is definitely a mid- to long-term goal.
Larger Chinese companies, including Huawei and ZTE, have even bigger ambitions.
In a written reply to China Daily, Huawei said it wants to become a mainstream handset brand, working in close cooperation with carriers worldwide. It expects to be in the global mobile phone suppliers' top five by 2014, it says.
He Shiyou, executive vice-president of ZTE, said the company hopes to become a second HTC Corp, whose market volume has received an enormous boost from the production of smart phones.
The company's flagship mobile phone, the ZTE Blade, has achieved unexpected success in the European market, with more than 1 million sold on the continent since it was launched in October last year.
"ZTE wants to become one of the world's top three mobile phone vendors by 2015," said He.
(China Daily 08/08/2011 page13)