Marriage knots unraveling
Updated: 2011-08-08 07:52
By He Na (China Daily)
| | | | | | | | | |
| --- | --- | --- | --- | --- | --- | --- | --- | --- |
|   | | Print | | Mail | | Large Medium  Small | 分享按钮 | 0 |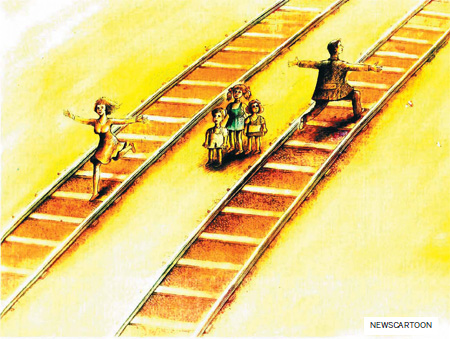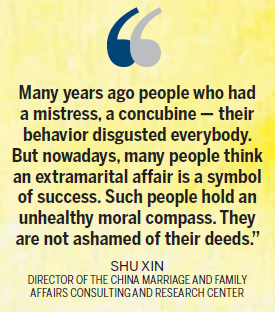 Extramarital affairs a major factor behind rising divorce rate amid changing social scene, reports He Na in Beijing.
Wang Xiuquan, a senior matrimonial lawyer with Beijing Chang An Law Firm, spends most weekends at the office, thanks to the soaring divorce rate. His wife has complained many times, but now she spends weekends with him - at his office.
"Divorce lawyers became the busiest lawyers in our firm in 2005," he said. "Our team handled about 110 divorce cases last year."
Cao Cheng, a senior matrimonial lawyer with Beijing Yingke Law Firm, confirmed the heavy workload.
"I'm not joking if I say that I work almost seven days a week. My phone number has become a divorce consultant hotline."
Statistics from the Ministry of Civil Affairs show that 465,000 couples registered for divorce in the first quarter of this year, a 17.1 percent increase from a year earlier. The number of divorces nationwide more than doubled in eight years, from 1.18 million in 2002 to 2.68 million last year.
Many people consider the increase a symbol of social progress, because it means people feel freer to break the bonds of unhappy marriage and pursue new love.
But that freedom comes at a cost, experts say. "We should not neglect its negative effects, especially its impact on children and family members on both sides," Shu Xin said. He is director of the China Marriage and Family Affairs Consulting and Research Center, a nongovernmental organization.
"Not all the couples say goodbye peacefully," Shu said. "Many of them become strangers, even enemies. These people could easily lead to extremes in revenge, which threatens public security."
Children feel it
Under the traditional view of marriage in China, a husband and wife were to remain faithful to each other. Extramarital affairs not only brought shame and disgrace to those involved, but also their families. Divorce was something best kept in the closet. People attached high value to family.
Under those social standards, Shu said, if it came to divorce, "the couple would rather give up anything to fight for custody of the child. But nowadays, many couples consider the children as barriers for their remarriage. As long as they can get rid of the burden, they would love to provide more economic compensation."
Yu Hai, professor of sociology at Shanghai-based Fudan University, said, "The financial loss of divorce may not be much, but in the long run the cost is immeasurable, especially for families with children. Single-parent families have a huge negative impact on children's personality development, family awareness and view of marriage."
A recent survey of 5,000 younger students at 70 Beijing middle schools showed that at least 20 percent have psychological problems in varying degrees. And 65 percent of those students come from single-parent families.
These kids have a lot of problems, Shu said. "However, tracing the sources, all are family problems. The development of juveniles needs care from both parents. It's indispensable."
Terminal affairs
Shu admits he has no data, but he suspects that extramarital affairs are responsible for 70 percent of divorces. He sees infidelity as evidence of moral decline and the collapse of social restraints on unacceptable behavior.
He gave this example:
A man in Hunan province is in his late 40s and owns property worth more than 200 million yuan ($31 million). He plans to divorce his wife, because he fell in love with a recent college graduate who had worked at his company for half a year.
The man and his wife had built the business from delivering cargo on a tricycle. They have three children, and the youngest is 5.
"His wife is a very good woman and a nice mother," Shu said. "In a bid to help her, I met the girl. I thought the girl would feel guilty meeting me, but to my surprise she said confidently that the married couple's love is not true love. The man needed a wife like her to help him develop his enterprise."
Shu was direct in his response: "Do you know that your decision changes the life of his wife, three children, four parents? If these people's lives become miserable from now on, will you be happy for the rest of your life?"
The young woman's face turned red, Shu said.
"Many years ago," he told China Daily, "people who had a mistress, a concubine - their behavior disgusted everybody. But nowadays, many people think an extramarital affair is a symbol of success.
"Such people hold an unhealthy moral compass. They are not ashamed of their deeds."
Real life, not plots
Other factors help send some marriages to the breaking point, too. Guo Wanhua, another senior lawyer with Beijing Chang An, points to a few.
"When a husband and wife lack communication due to a heavy workload or various kinds of social activities, they begin to ignore each other," he said. "Then there's the popularity of the Internet and places of entertainment that provide more chances to make new friends and develop extramarital affairs."
Guo mentioned a recent case he handled. The man, from Jinan, Shandong province, fell in love with a woman he met online, and resolved to divorce. He said he gave his wife more than half his property, but she held to the hope that he would change his mind one day and refused to divorce.
Finally, the man moved to Qingdao, 320 km away, with the xiaosan - the "other woman" - and never came back.
Zhang Wanxin, a postgraduate student at Jilin University, married last year. "My older sister divorced, for her husband had an extramarital affair. One of my friends also divorced, for she gave birth to a girl and her mother-in-law doesn't like her.
"I thought these were only plots for TV plays or films, but they just happened around me," Zhang said. "I am really afraid that my marriage will end one day."
New phenomenon
Lawyer Wang has noticed that increasingly, women are asking for divorce, even if they would be considered wrongdoers in the marriage. These women are generally 30 to 40 years old and well educated, and have independent economic resources.
A typical case came up last month, he said. The husband is a television journalist; the wife works in a foreign company. In their first couple of years, their salaries were about equal. The man's job hasn't changed, and he earns 5,000 yuan a month. The wife has become vice-president of her company's China region.
She started divorce proceedings, saying he is not ambitious. He accepted, saying an end to the marriage would be a relief.
"The man complained that the wife often talked about villas, nice cars and top brands at home," Wang said. "They have fewer and fewer common interests. He felt he did not have dignity in the family."
The new phenomenon of successful career women with higher salary and status than their husbands clashes strongly with China's traditional marriage model with the man as superior.
"Couples need to learn to balance their minds and do more to understand the other person's perspective. The higher status party does not put on airs at home," Wang said. "Only in this way can the two parties avoid many conflicts."
A simple procedure
The Marriage Registry Office of the Civil Affairs Bureau of Chaoyang District, Beijing, is a three-story white building in a big residential community. Whether they are there to marry or divorce, everyone needs to visit Room 205 and take a number, just as they do at the bank.
Two staff members are in charge of the room, one for marriage and the other for divorce. Over two hours on a Thursday afternoon, it was obvious that more were looking to divorce.
People going to the office for marriage often arrive hand in hand. Those for divorce often keep some distance from each other.
The divorce process is very simple: Both parties present their hukou (residency permits), ID cards, marriage certificates, divorce agreement and passport-size photos. They pay 9 yuan ($1.39) and the worker stamps the divorce certificate in red. The marriage is over.
(China Daily 08/08/2011 page1)