Car takes long drive - by itself
Updated: 2011-08-03 08:33
By Hao Nan (China Daily)
| | | | | | | | | | | |
| --- | --- | --- | --- | --- | --- | --- | --- | --- | --- | --- |
|   | | Comments() | | Print | | Mail | | Large Medium  Small | 分享按钮 | 0 |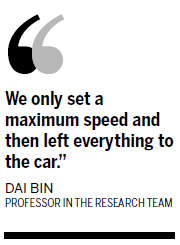 The car starts, steers safely to its destination 286 kilometers away and stops - all without a human driver.
No, it's not a scene from some Hollywood sci-fi movie, but an actual event on July 14 over an expressway linking Changsha and Wuhan, the capitals of Hunan and Hubei provinces.
The car, a Hongqi HQ3 with full intellectual property rights developed by the National University of Defense Technology, traveled in daytime, taking only three hours and 20 minutes to finish its trip under full computer and sensor control.
"We only set a maximum speed and then left everything to the car itself," said Dai Bin, a professor in the research team.
"It knew the speed limits, traffic patterns, lane changes and roads using video cameras and radar sensors to detect other cars. It was all controlled by a command center in the trunk," Dai said.
The car encountered several complicated situations that made the test even more difficult.
"We had fog and thundershowers as well as the complex route and unclear lane markings in some sections," he added.
He noted that the car was not equipped with GPS, but relied solely on its sensors and lasers to detect the surrounding environment and choose the correct route.
The test also showed the car could cope with potential dangers from other vehicles such as abrupt lane changes.
"The driverless car is much safer because it reacts more quickly than humans. It can respond in 40 milliseconds while human needs at least 500 ms."
During its trip, the driverless car overtook other cars 67 times and had an average speed of 87 kilometers an hour, according to the research team.
"Research on unmanned cars started late in China, but some technologies already meet international standards," said He Hangen, another professor on the research team.
In 1995, Carnegie Mellon University in the United State conducted a similar experiment on a long-distance unmanned car.
But "a human controlled the accelerator and brakes in that experiment, while the car only controlled the direction and did not overtake other cars", He noted.
In 2007, the HQ3 was exhibited at the 14th World Conference on Intelligent Transport Systems, which triggered a huge response from foreign experts, according to Dai Bin.
"Some foreign experts asked me directly whether the artificial intelligence system was really developed with our own proprietary technologies, while some humorously asked where the three tiny robots in charge of the accelerator, brakes and direction hid in the car," Dai recalled with a smile.
"The responses reflect the fact that China's driverless car technologies have achieved surprising progress."
The team is now cooperating with China's First Auto Works to deepen development and research, with more breakthroughs expected, according to experts.
China Daily
(China Daily 08/03/2011 page16)