Yanchang Petroleum to focus on petrochemicals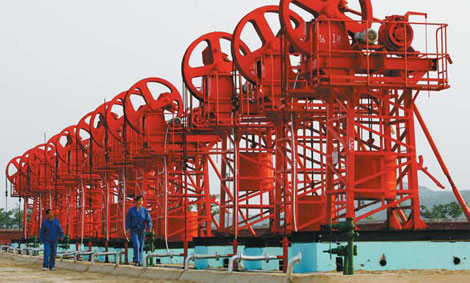 Shaanxi Yanchang Petroleum (Group) Co equipment. Yanchang Petroleum is one of only four qualified Chinese oil companies that hold domestic oil and natural gas exploration rights. Yuan Jingzhi / for China Daily
BEIJING - Shaanxi Yanchang Petroleum (Group) Co, China's fourth-biggest oil producer by output, is planning to strengthen its petrochemical division and cut the weighting of its oil and gas unit in its total portfolio, after its oil resources were squeezed by China's top three oil companies.
Yangchang Petroleum will reduce the proportion of sales by its oil and gas division to 60 percent of the group's total sales by the end of 2015 to 120 billion yuan ($19 billion), Zhang Jiyao, general manager of the company, which is based in the northwestern province of Shaanxi, told China Daily. The sector accounted for approximately 80 percent during 2006-2010.
Meanwhile, the company expects the petrochemical sector, including its coal chemical division, to account for 40 percent of the group's sales, equal to 80 billion yuan, Zhang said. The past five years have seen the petrochemical division provide around 20 percent of total sales. Yanchang Petroleum said earlier that it aims to double its sales to 200 billion yuan in five years from the 100 billion yuan recorded in 2010.
The increased role for the petrochemical division is part of the company's solution to a shortage of crude oil supplies. Yanchang Petroleum will instead exploit alternative resources, such as coal, to maintain growth, said Wang Jintao, an analyst at chem365.net, an online information provider for the petrochemical industry.
Yanchang Petroleum is one of only four qualified Chinese oil companies that hold oil and gas exploration rights in China, and the only outfit among the four to be owned by a provincial government.
The other three, including China National Petroleum Corp (CNPC) and China Petroleum & Chemical Corp (Sinopec), are directly owned by the central government. At present, CNPC and Sinopec control the majority of crude oil supplies in China.
For Yanchang Petroleum, the development of the company's operations that are heavily reliant on crude oil and gas has been hampered by the shortage of resources,said a fund manager based in Beijing, who declined to be named.
"We'll make full use of the abundant coal resources we have and find our own way for growth," Zhang said, adding that the company will use 150 billion yuan of its total 260 billion yuan corporate investment between 2011 and 2015 to develop projects that integrate coal, oil, gas and salt.
At present, Yanchang Petroleum produces 3 million tons of coal tar annually. That figure is expected to double within five years.
In addition, Zhang said that the company is set to raise its annual refining capacity by 5.14 percent from 2010 to 13.5 million tons this year.
It also plans to invest about 14 billion yuan to expand its network of gasoline stations by 700 within five years, bringing the total number to 1,000. Currently, most of its 300 existing stations are situated in the provinces of Shaanxi and Sichuan. "We're preparing to establish some in Shanxi province," Zhang said.
"The planned stations will include some jointly established with Shell," said Zhang, who declined to reveal specific figures.
China Daily
(China Daily 07/29/2011 page13)
Today's Top News
Editor's picks
Most Viewed