New trailer primes The Grandmasters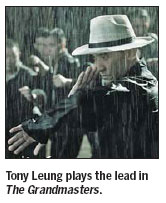 Hong Kong director Wong Kar-wai's latest film, The Grandmasters, recently released a second trailer - 18 months after filming started and 10 years after the director conceived the movie.
The one-minute trailer, set on a street, on a dark, rainy night, depicts a battle between lead actor Tony Leung and about 20 kungfu artists.
In a black gown and white hat, Leung transforms his signature gentlemanly manners to kick and punch like a street fighter. The scene is a nod to Keanu Reeves in The Matrix and Christian Bale in The Dark Knight.

Today's Top News
Editor's picks
Most Viewed