Peace in Norway shattered
Updated: 2011-07-24 06:03
(China Daily)
| | | | | | | | | | | |
| --- | --- | --- | --- | --- | --- | --- | --- | --- | --- | --- |
|   | | Comments() | | Print | | Mail | | Large Medium  Small | 分享按钮 | 0 |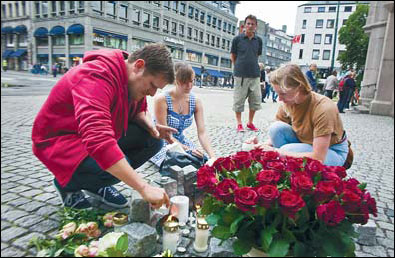 Norwegians light candles at the site of the bomb blast which killed seven people in the central Oslo government district. Agence France-Presse
Latest reports say 91 dead in Oslo downtown blast and island killing
OSLO, Norway - Police said they were questioning a Christian fundamentalist on Saturday over two attacks on a youth camp and government headquarters that killed 91 people in Norway's deadliest post-war tragedy.
As harrowing testimony emerged from the holiday island where scores of young people were mown down by a gunman dressed in a police uniform, Norwegian Prime Minister Jens Stoltenberg said the country would emerge stronger from the "cruel act of violence".
"Never since the Second World War has our country been hit by a crime on this scale," Stoltenberg told journalists in a news conference as police searched for more bodies on the idyllic Utoeya island.
At press time, the latest death toll on the island stood at 84 while seven people died in the central Oslo bombing.
Witnesses said the gunman, identified by police as a 32-year-old Norwegian, moved across the small, wooded island of Utoeya in a lake northwest of Oslo on Friday, firing at young people who scattered in panic or tried to swim to safety.
Police detained the tall, blond suspect, named by local media as Anders Behring Breivik, and charged him for the killing spree and the bombing of government buildings in Oslo.
Stoltenberg, capturing the shock this normally quiet nation of 4.8 million is experiencing, said: "A paradise island has been transformed into a hell."
He said Norwegian officials are working with foreign intelligence agencies to see if there was any international involvement in the attacks.
Premier Wen Jiabao on Saturday extended condolences to Stoltenberg over the deadly attacks.
In his message, Wen condemned the violent attacks, and extended his condolences to the victims and sympathy to their families.
Breivik "describes himself as a Christian, leaning toward right-wing Christianity, on his Facebook page," said Deputy Police Chief Roger Andresen.
Norwegian intelligence had not considered the far-right a serious threat to society and instead primarily feared an attack by Islamist extremists, according to an official report published this year.
The Norwegian Police Security Service (PST) had detected a rise in far-right activity but had said "the lack of strong leaders limits the growth of these groups", according to the report.
"There was an increase in the activity of far-right extremist groups in 2010, and this activity is expected to continue in 2011," the PST said.
However "as in previous years, the far-right and far-left extremist communities will not represent a serious threat to Norwegian society in 2011," the report added.
Norwegian media say the Oslo bomb was made of fertilizer and that the suspect owned a company, Breivik Geofarm, which a fertilizer supplier said he had used to buy the material.
"These are goods that were delivered on May 4," said Oddny Estenstad, a spokeswoman at farm supply chain Felleskjoepet Agri. "It was 6 tons of fertilizer, which is a small, normal order for a standard agricultural producer."
Andresen said the casualty toll could rise. "In Oslo, with the explosion and the impact it had, we are not yet sure if that number is final. At Utoeya, the water is still being searched for more victims." Police have not said how many people were wounded.
Norway's national news agency says police are investigating whether a second suspect was involved in the shooting spree.
Teenagers at the island camp, 30 km northwest of Oslo, fled screaming, many leaping into the water when the assailant began spraying them with gunfire, witnesses said.
Wang Peiran, a visiting scholar specializing in European security studies at Vrije Universiteit Brussel in Belgium, said targeting government offices and the Labor party camp point to political agenda behind attacks.
Wang said European countries and the EU will "rethink terrorist threats they face".
"Perceptions of terrorism will converge between Trans-Atlantic countries after the attacks, so it will offer a chance for them to integrate their anti-terror resources," Wang said, hinting the attacks may enhance anti-terror cooperation between the US and European countries.
Dong Manyuan, an anti-terrorism expert at the China Institute of International Studies, said the attacks send a strong message that the government should pay more attention to demands of right-wing extremists, such as stricter curbs on illegal immigration.
"These attacks are enough to warn the government to respect their demands," Dong said.
China Daily-Reuters-AP-AFP-Xinhua
(China Daily 07/24/2011 page1)