Bridging the gap between cultures
Updated: 2011-07-22 07:35
By Li Xing and Tan Yingzi (China Daily)
| | | | | | | | | | | |
| --- | --- | --- | --- | --- | --- | --- | --- | --- | --- | --- |
|   | | Comments() | | Print | | Mail | | Large Medium  Small | 分享按钮 | 0 |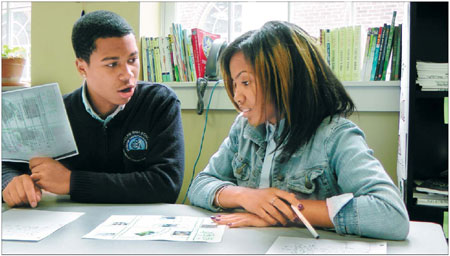 Delmar Evans-Thomas (left), a 10th grade engineering major, and Chanel Sarter, a 12th grade architecture major, practice Chinese in a class at Phelps High School in Washington. Sarter is now in Beijing on a six-week program of language study and cultural immersion. It is sponsored by Americans Promoting Study Abroad China Scholars, which is funded by the US State Department. Photos by Li Xing / China Daily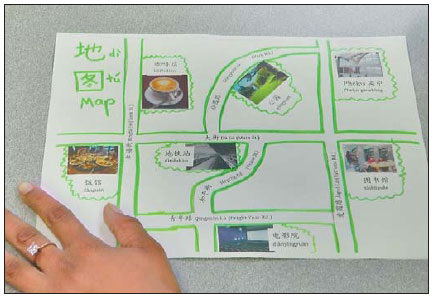 Maps like this one help the Chinese language students learn the names of places such as park, theater and restaurant; what is done there; and how to get there.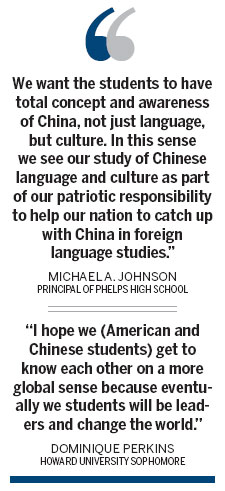 Learning a new language helps students expand horizons, report Li Xing and Tan Yingzi in Washington.
Discussions about where to go and which route to take were quite lively recently in a class at Phelps High School in Washington.
Grouped in pairs, the 16 students pointed at different spots on a map and talked about going to a restaurant, a library or a park.
The topics seemed easy, but discussing them was not. In this Chinese class, expanded for a press visit, the students had to fumble for the right vocabulary, sounds and tones.
"Ni qu tu shu guan gan shen me? (What are you going to do in a library?)" B. Rose Hansen, their Chinese language teacher, asked one student.
He paused, then answered. "Du shu (Read a book)."
Sometimes a pair started in English and turned to Chinese once they felt more comfortable with the sentences they needed to practice.
Phelps High School added Chinese three years ago to its curriculum of academic courses and vocational training in carpentry, plumbing, electrical and civil engineering, interior and architectural design.
Three students from Phelps High are now in Beijing, immersing themselves with dozens of other American high school students in the Chinese language for six weeks. Before she left for Beijing, Chanel Sarter, 16, said she wanted to find out how China is different from the United States.
Ready to travel
Sarter is likely to rub shoulders with other American students who are traveling in China under other programs.
George Mason University alone will take about 120 students, from high school to university postgraduates, in different programs. Among them, 15 high school students from Virginia, West Virginia and the District of Columbia will spend two weeks under the Chinese Bridge program, according to Lucia Sedwick Claster, deputy director of the Confucius Institute at George Mason.
Bridge is a two-week intensive Mandarin language and Chinese culture training program for high school students. It is organized by Hanban, the Office of Chinese Language Council International in China.
On Monday, 23 students from Howard University will leave for a one-week stay in China, visiting several university campuses in Beijing and discussing youth leadership with their Chinese peers at Peking University.
"I am interested in the unique culture of China - and we will take tai chi lessons," Howard sophomore Dominique Perkins said.
Educators are traveling to China, too. Claster is leading a group of nine from Virginia and DC on a 10-day trip that began Monday.
'100,000 Strong'
These and similar projects at many other US campuses go beyond helping fulfill US President Barack Obama's call two years ago to send 100,000 American students to China over four years.
Called the "100,000 Strong" initiative, it "seeks to prepare the next generation of American experts on China who will be charged with managing the growing political, economic and cultural ties between the United States and China," according to a news release by the US State Department.
Whenever "100,000 Strong" is discussed, officials from the State Department and schools often cite Obama's comments that far fewer Americans study in China than Chinese in the United States. These days, the numbers are about 20,000 versus more than 127,000.
"Many citizens of China have a strong knowledge of the English language and American culture, but in the US, there are many fewer citizens with a strong knowledge of the Chinese language, history and culture," Michael A. Johnson, the principal of Phelps High, told China Daily.
China is important because it is "a major economic and cultural power in our world, and it is our belief that China is playing, and will continue to play, a major influential role in shaping the future path of our global community," Johnson said.
"Our students must gain a better knowledge of Chinese language and culture so that there can be better opportunities for communication between our two countries and the people who live in these two great nations."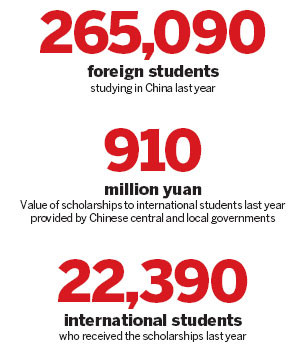 'Intermingling cultures'
Even with crowded class schedules, Phelps High requires students not only to take a world language, such as Spanish or Chinese, but also insists that they do so for three or four years, instead of the two years required by the local public school system.
"We want the students to have total concept and awareness of China, not just language, but culture," Johnson said. "In this sense we see our study of Chinese language and culture as part of our patriotic responsibility to help our nation to catch up with China in foreign language studies."
He hopes to prepare his students for careers that require not only their skills as architects and engineers but also their dual language ability.
Gaining knowledge about China and learning the language are not only about the numbers, but also "a national effort designed to increase dramatically the number, and diversify the composition, of American students studying in China," the US State Department release said.
With the initiative, American schools and universities, especially those with more minority students, hope to extend their international reach and increase the students' global perspective.
In meeting with the press, Dr. Sidney A. Ribeau, president of DC-based Howard University, cited a 2008 study showing that among American students in overseas study programs, only 16 percent were minority students. African-Americans accounted for 3.5 percent. The 2009 Open Doors report by the Institute of International Education in the US also indicated that of the 260,327 Americans studying abroad, only 4.2 percent were black.
Howard, a historically black university, is committed to mending the divide, Ribeau said. He wrote in the school's summer magazine that higher education must prepare students to deal with more complexities in the world brought by "the growing intermingling of cultures, and the profound lack of awareness and misunderstandings that characterize many of our relationships".
New perspectives
Andrea Corey, media relations officer in the State Department's Foreign Press Center, said learning Chinese and other foreign languages "changes the way you think and how you see the world".
"We know our students are going to lead and engage the whole world to solve problems with their peers in other countries," said Sally A. Schwartz, director of the nonprofit DC Center for Global Education and Leadership.
By "our students", Schwartz stressed that she was not talking about the children of diplomats, officials or even the US president. She was talking about children "whose parents may not have traveled abroad, studied abroad; may not have gone to college; may never have even thought about going overseas".
Principal Johnson said it is very important that the students "be global learners with a global perspective that will help them to understand how those outside of the US see, interpret and respond to events".
"We are all interconnected with or without our permission. An environmental or economic event in one part of the world can have an immediate and dramatic effect in another part of the world far away from the original event," he said.
That's why his students need to learn "to think in the language. This knowledge of other people and their culture is not extracurricular but rather is essential to our educational objectives and also to the well-being of our nation."
Finding out more
The students understand their missions very well.
Although Sarter, the Phelps High student, is majoring in architecture, she hopes to pursue Chinese language when she goes to college. "When you think of America's future and its connection to China, you start to think collaboration, something positive."
"I want to find out their (Chinese) leadership experiences, their perspectives on the US and what they think (about) how we see things," said Caleb Davis, a member of the Howard University Freshman Leadership Academy who is going on the Beijing trip.
"I hope we (American and Chinese students) get to know each other on a more global sense because eventually we students will be leaders and change the world," Howard's Perkins told China Daily.
(China Daily 07/22/2011 page1)