Yao phenomenon
Updated: 2011-07-21 08:04
By Tym Glaser and Sun Xiaochen (China Daily)
| | | | | | | | | | | |
| --- | --- | --- | --- | --- | --- | --- | --- | --- | --- | --- |
|   | | Comments() | | Print | | Mail | | Large Medium  Small | 分享按钮 | 0 |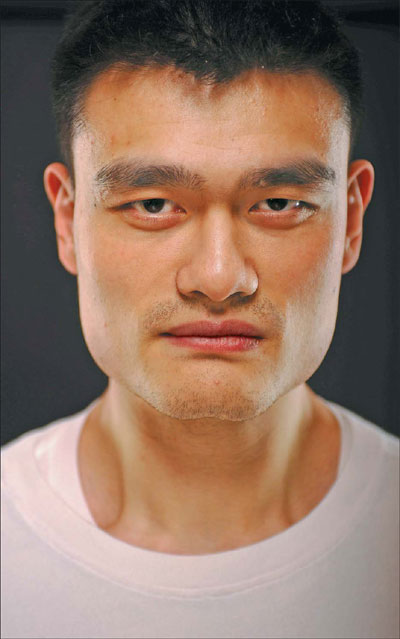 Tym Glaser and Sun Xiaochen take a look at basketball life in China after the big man's big decision on Wednesday.
Ming dynasty ends
A massive chasm opened up in the Chinese basketball world on Wednesday, and it could take a long time to fill - depending on who you speak to.
When Yao Ming, the first Chinese basketballer to make a real impact in the NBA - and on the world stage, announced his retirement at a press conference in his hometown of Shanghai, it closed the door on an all-star and possibly Hall of Fame career, but also dimmed the lights somewhat on the game in China.
Now, without the towering center, local fans of the NBA will either turn their attention to Yi Jianlian of the Washington Wizards or have a residual interest in Yao's Houston Rockets, but neither is likely to last for long.
That's how big the big man's NBA influence was; and let's not forget the national team which was basically built around Yao.
However, NBA China CEO David Shoemaker has put a positive spin on Yao's bowing out of the game.
"Yao was a transformational basketball player, and a testament to the globalization of the game. There are 300 million people playing basketball here in China. We are the most popular sport in the country," Shoemaker said after Wednesday's press conference
"We have more fans watching NBA games than any other sport. We have a group of select marketing partners. I am extremely confident about the game's future in the country; even with the retirement of the iconic Yao.
"(I believe) we will continue to be the most popular sport in China. And the most watched sport on television," Shoemaker said.
Ma Guoli, the CEO and managing director of Infront China, which develops and markets the CBA league and Chinese national teams, told China Daily, "According to my experience in TV broadcasting, the TV attendance of live NBA games could fall by almost a half when Yao Ming didn't play.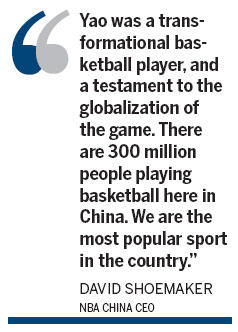 "Even if Michael Jordan played during his heyday, the peak TV audience ratings couldn't match the pinnacle of when Yao played at his best.
"Most of the Chinese fans watched the Rockets' games to seek a kind of sense of belonging, because there was a player from their country there. A certain part of them were not the game's fans, but Yao's supporters," Ma said.
However, Ma said, on the plus side, Yao's retirement could boost the local league.
"Now he is heading back to the CBA as the Shanghai Sharks' owner. That should gain more focus and some endorsements back here. Possibly, it will draw some active NBA stars to play in the CBA during the (NBA) lockout. It could be good for the CBA's development," he said.
"The NBA was searching for a global ambassador for years after Jordan retired. They saw Yao Ming as the ideal image to replace MJ in terms of international influence. But now Yao's departure has rocked the league."
Li Yuanwei, a former CBA chief, who tried to implement more professionalism to the league during his tenure from 2003-2008, also sees a bright side to Yao's retirement.
"Yao gained plenty of resources and experience about running a complete professional club during his nine-year (NBA) career. He knew a lot of coaches and agents (in the US). I am sure he will use all that to operate his Sharks. It will be a good example for other domestic clubs.
"Some former NBA player have joined the CBA because of his impact, and there will be more in the future when he comes back," said Li.
China's interest in the NBA and the game may not wane too much - you only have to go to any school at recess to see boys and girls shooting hoops.
However, the departure of the face of Chinese basketball has left the sport here in a state of limbo.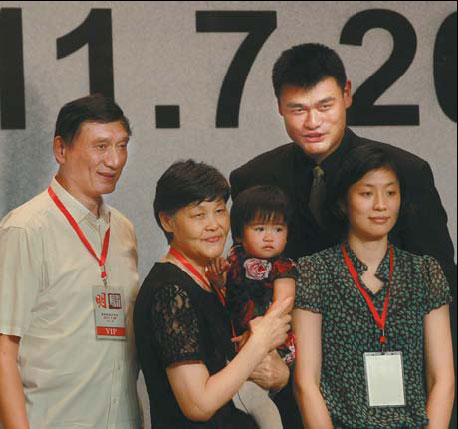 Chinese basketball player and NBA superstar Yao Ming, his wife, Ye Li, (right), his father and his mother, with his daughter, Yao Qinlei, attend the press conference in Shanghai on Wednesday. Cui Meng / China Daily
Q & A
| Yao Ming
Q: Some people claim the doctor who performed surgery on your foot was not good enough and should take the blame for your retirement. What do you think?
A: Whether the doctor is good or bad, he could not change the fact that I'm 2.26 meters tall and over 150 kg. Also I was born with a high arch, which increases the chances of getting injured.
I always had trust in my doctor. We cannot deny his ability because I returned to compete at the 2006 World Championships and became the tournament's top scorer.
Q: People compare you with Shaquille O'Neal. What do you think of the comparisons between you and Shaq?
A: Shaq is one of the greatest players of all-time. To be honest, I was not able to overplay him during his peak. I was actually lucky as when I met him in the NBA, his career was on the downside.
That's why it seemed I got close to his level in some games. I have heard that there are only two players in NBA history who could play at a similar level as him at center - Arvydas Sabonis and Wilt Chamberlain.
Q: Unlike many NBA all-star players, who chose to quit international games, you spent lots of time training and playing for the Chinese national team, including Olympics and World Championships. What made you so devoted to the national team?
A: It's always an honor to play for the national team. It was a dream deeply rooted in my heart when I was a child. One of my coaches told me I should treasure the moments as a national player.
It's a really pure feeling as you never know if you will wear the jersey of the Chinese national team from day to day. The older you get, the stronger that feeling is.
Q: You were the flag bearer of the Chinese delegation at the 2004 and 2008 Olympics. How did you feel about that?
Well, you can make mistakes on the basketball court, but you absolutely cannot make any mistakes on that kind of occasion. I was really nervous during the 2004 Games and also in China. Being a flag bearer at the Olympics is a dream for lots of basketball players.
Q: What do you plan to do now?
A: I plan to continue my studies at university, but I will not tell you which university as I do not want to be distracted.
Q: Which is more difficult, being a basketball player or a student?
A: For me, being a student may be harder. You have four or five hours of intense training each day when playing basketball, but you can use the rest of time to do anything you want. Going to school is a different story; you have to keep on thinking even after you come back home after seven or eight hours of study.
(China Daily 07/21/2011 page22)