Beer, beach and markets
Updated: 2011-07-17 08:44
By John Clark (China Daily)
| | | | | | | | | | | |
| --- | --- | --- | --- | --- | --- | --- | --- | --- | --- | --- |
|   | | Comments() | | Print | | Mail | | Large Medium  Small | 分享按钮 | 0 |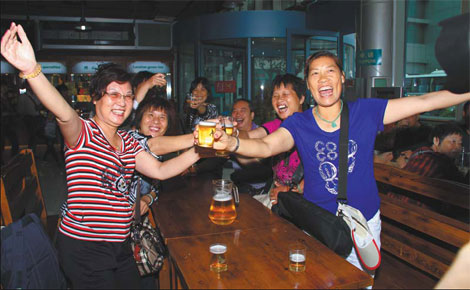 Ganbei! Some happy guzzlers toast their visit to Tsingtao with a few jugs of the signature drink. Provided to China Daily
John Clark takes a break in Qingdao and delights in the city's many attractions even if he does fall flat on his face at the beer museum.
We have an expression in Glasgow for someone who's not good at arranging things. We say that he or she "couldn't organize a piss-up in a brewery". However, you don't need to be an organizational genius to put together a trip to the Tsingtao Beer Museum in Qingdao.
Everything is taken care of: party food, peanuts, beer are all on tap, so to speak.
But I'm getting ahead of myself. The piss-up (if you want one) comes at the end of your tour.
Before then, you can experience the feeling of inebriation without touching a drop. Visit the Drunken Bar, next to the gift shop. I stepped inside the small, wood-paneled room and immediately my senses were confused.
There's a bar counter, a handrail and a mural of Mick Jagger and the Rolling Stones. But the floor seems to be at a strange angle. I try to walk to the bar and find myself reeling around the room. Thankfully, I grasp the handrail. Smugly, I think I can make it if I tilt towards the angled floor. I fall flat on my face.
A weird combination of angles - floor, walls, furniture, ceiling - has baffled my sense of balance. I stagger out the exit to the laughter of observers who'd watched me onscreen.
German settlers established the first brewery in Qingdao in 1903. Today Tsingtao's famous lager is sold in 62 countries and regions around the world, including Japan, Germany, France, the UK, Italy, Canada, Brazil and Mexico.
Tsingtao is the number one consumer product exported by China and is the top-selling Chinese beer in the US.
The brewery, which occupies a huge area in downtown Qingdao, is China's first industrial tourist site. Tsingtao is described as a well-hopped standard pilsner of 4.7 percent alcohol. It's the company's flagship drink.
Originally the beer was brewed in accordance with the German Reinheitsgebot (purity law) of 1516. The only ingredients used were water, barley and hops. However, after privatization in the early 1990s, the recipe changed, like many other beers brewed in China. Today's Tsingtao contains a proportion of less expensive rice as an adjunct in the mash.
The brewery produces a variety of beers, mostly for the domestic market. Its dark beer, a delicious stout of 5.2 percent alcohol, can be bought in several overseas markets.
There's also a green beer. This is a 4.5 percent alcohol green-colored beverage said to have health-giving properties. It contains spirulina, a blue-green algae which is 65 to 71 percent protein (beef is only 22 percent protein) and said to be the most nutritious food known (if you don't mind eating blue-green algae).
The museum is well laid-out and covers the history of the brewery. From the photographs, it would seem that most Chinese political leaders have visited the brewery and endorsed the product.
You can see a traditional brewing workshop with the original copper kettles, learn about yeast and the science of fermentation and discover the history of beer goes back thousands of years.
The visit costs 50 yuan and for that you'd expect a decent drop of the product at the end of your tour. But no, what you get is a derisory small glass of beer that is mostly foam.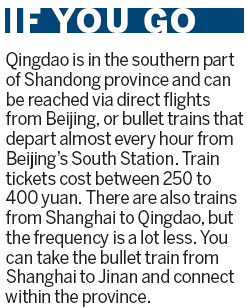 However, prices in the Beer Bar are very reasonable and it's possible to buy jugs of the foaming nectar for 25 yuan.
In the Beer Hall, several parties were in full swing. Tour bus travelers sipped Tsingtao and ate free popcorn before heading off for their next attraction.
The city of Qingdao has a holiday atmosphere. It reminded me of the seaside resort of Blackpool in northwest England - except that in Blackpool girls wear Kiss Me Quick hats and hold hen parties, which last all weekend.
We stayed at the Old Observatory, a delightful, lofty hostel with views of the sea promised on a clear day, even though a mist shrouded the coast our entire visit.
The Saturday night barbecue sounded like great value. Food was free and you paid 20 yuan for as much Tsingtao draught beer as you could drink. When we arrived, fellow guests were tucking into a selection of salads while the electric barbecue stayed cold and bare. It remained that way. Apparently it was a vegetarian barbecue. Six pints later, we beer drinkers couldn't care less.
I should mention the street market below the Old Observatory. It wound its way down a narrow, pedestrians-only street for several hundred meters. There were dozens of stalls selling fruit and vegetables; live, fresh and cooked fish; knickers and socks; fresh meat; cutlery, hats, bags and glad rags.
There was barely room between stalls to squeeze past other shoppers. A merchant hauled a cart with four fat fish, each as plump as a woman's thighs.
I headed for the beach intending to have a swim. But I guess I went to the wrong beach. The sand was littered and the sea polluted with plastic bags.
However, Qingdao's German-style architecture was a delightful change from Beijing's modern brutalism.
You can contact the writer at sundayed@chinadaily.com.cn.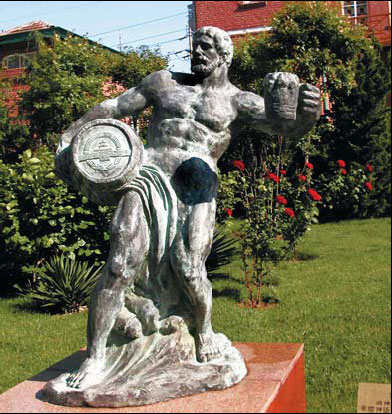 In the garden, a well-built advocate of hops, barley (and rice) raises a permanently foamy mug. Provided to China Daily
(China Daily 07/17/2011 page16)