Deciphering origins of the Da Vinci code
Updated: 2011-07-15 07:36
(China Daily)
| | | | | | | | | | | |
| --- | --- | --- | --- | --- | --- | --- | --- | --- | --- | --- |
|   | | Comments() | | Print | | Mail | | Large Medium  Small | 分享按钮 | 0 |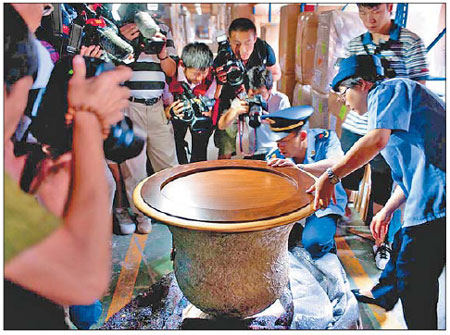 Quality inspection officials, surrounded by reporters, examine a Da Vinci bedstand at the company's warehouse in Shanghai on Monday. Gollum Zheng / for China Daily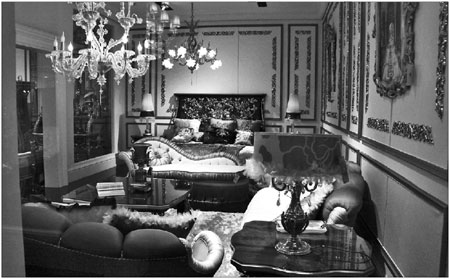 Luxury furniture fills a showroom at the Da Vinci Group's store in Beijing. Country of origin for some of the company's goods is suspect. Zhu Xingxin / China Daily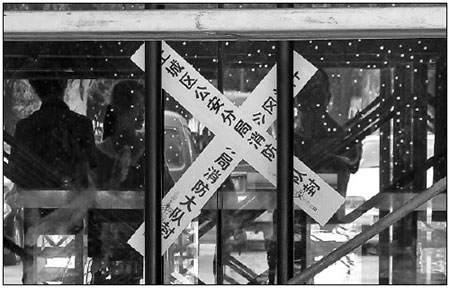 The fire department in Hangzhou, capital of Zhejiang province, closed the Da Vinci store on Thursday, citing fire safety violations. Li Zhong / Xinhua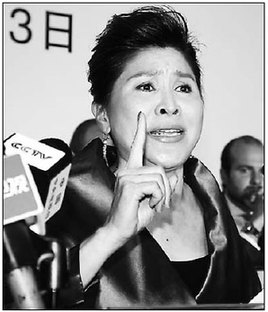 Panzhuang Xiuhua, general manager of Da Vinci in China, insists that all the Italian furniture displayed in her eight stores was made in Italy. She spoke on Wednesday at a news conference in Beijing. Zhu Xingxin / China Daily
Company accused of labeling domestic goods as foreign, He Dan and Yang Wanli report from Beijing, Gao Changxin from Shanghai.
It was about 1 pm on Monday and the Da Vinci store on Shanghai's Huaihai Road was open, but no customers were in sight. The company, established in Shanghai in 2000, sells luxury furniture, which means overseas brands and overseas prices.
"We sell high-end furniture, imported from foreign countries," a saleswoman said. "They are purchased globally."
That's how the label actually read - "globally purchased" - on a silk-covered couch priced around 110,000 yuan ($16,975).
But the saleswoman could not say where it, or other pieces, had come from.
In Da Vinci's case, country of origin has become an important issue.
Chinese Central Television (CCTV) reported on Sunday night that some of Da Vinci's expensive furniture was not made abroad but in Dongguan, Guangdong province. And what the company called "rare wood" was, in some cases, partly polymer and other chemicals.
This is hardly the first time that a Chinese company has been accused of attaching false foreign identities to the goods they sell. A couple of examples:
The Order floor material company, which claimed to have been established in Germany in 1903, was proved in 2006 to be a Chinese company with a history of only eight years. Order was fined 7.4 million yuan for fraudulent marketing.
In 2008, Guangzhou Jiahe Cosmetics Manufacturing Co Ltd apologized for forging a Japanese background for its Marubi cosmetics. Jiahe, a Guangzhou-based Chinese company founded in 2002, had claimed it was a Sino-Japanese joint venture. Misleading advertising conjured up Japanese origins and a long history for the brand.
Suspicion, a probe
Early last year, a Beijing resident surnamed Tang spent more than 2.8 million yuan ($433,270) on about 40 pieces of furniture from Da Vinci. She did not hesitate to pay that much for furniture labeled "Cappelletti made in Italy." She said the salesperson promised that the Cappelletti brand is world-famous and that all the furniture Tang bought was made from natural and high-quality materials.
When the furniture was delivered, Tang said, it came with an unpleasant smell. The 100,000 yuan bed she had bought for her daughter was 1.2 meters wide, not the 1.5 meters described in the contract. A sales manager at Da Vinci Beijing explained that China's measurement standards are different from those in foreign countries, Tang said.
Tang sent the bed and a television table for a quality check by the National Center for Quality Supervision and Inspection of Furniture and Indoor Environment. The furniture did not meet three of its quality standards. The TV table was rated substandard because it was made of high-density fiberboard, not solid wood.
On Sunday, CCTV broadcast its investigation of Tang's case, and an employee of a furniture manufacturer in Guangdong said Da Vinci lied about where some of its furniture comes from. Video footage identified Peng Jie as the general manager of Dongguan Changfeng Furniture.
He said his company receives orders from Da Vinci and ships the made-in-China furniture from Shenzhen's harbor to Italy. The furniture later is delivered to Da Vinci's storehouse in Shanghai as made-in-Italy products, he said.
Peng said Changfeng has taken orders for Da Vinci since 2006 and produced three "brands" of furniture - Riva, Hollywood Homes and Cappelletti. Their trade, unknown to the owners of the Riva and Cappelletti brands, totaled about 50 million yuan last year, he said.
China Daily learned that Peng, the whistle-blower, was sacked on Monday "because he told lies to media about our company's relationship with Da Vinci", a male employee at Changfeng furniture said on the phone.
Peng was not Changfeng company's general manager but a salesman, the employee said. He also said Changfeng used to provide accessories or components for Da Vinci, but not whole pieces of furniture.
All hand-carved?
Da Vinci Group released a public statement on its website Sunday night saying, "All the Italian brand furniture that Da Vinci sells in China was produced and imported from Italy."
Da Vinci's four-story shop in Beijing exhibits furniture from more than 100 brands, nearly 60 percent of them Italian. The 20-square-meter showroom for Cappelletti is on the third floor. One 2-meter-wide bed is priced at 408,659 yuan after a 20 percent discount. The label states that the bed, a model called Emotion, was made in Italy of briarwood.
Zhao Ying, the store's sales manager, said on the CCTV report that all of the bed's sophisticated carvings are handwork. On Tuesday, a saleswoman told China Daily that's not entirely true - parts of some designs are too intricate for hand-carving. She said she didn't want to be identified for fear of losing her job.
'Truly made in Italy'
At a news conference in Beijing on Wednesday, Da Vinci general manager Panzhuang Xiuhua insisted that all the Italian furniture displayed in her eight outlets "was truly made in Italy".
Panzhuang, who burst into tears several times, said she was willing to buy 20 tickets for journalists and customers to travel to Italy for a field study of her Italian suppliers.
She did say the "American furniture" pieces in her stores, including the Hollywood Homes brand, mostly were outsourced products made in countries including Vietnam, the Philippines, India, Indonesia and China. She said the sales staff had told buyers about the places of origin.
Panzhuang also said that Changfeng makes furniture for Hollywood Homes.
Tino Cappelleti, who was introduced as CEO of Cappelleti, said his company's furniture is "100 percent made in Italy" and all its material meets the European Union's quality standards.
The news conference was interrupted twice by an unidentified customer who yelled that he worried about the quality of Da Vinci's furniture. He said he had bought some costing more than 10 million yuan. The company did not respond to his comments, and he left.
"I am considering returning all furniture and asking for compensation from Da Vinci," a customer named Ding told China Daily after the conference. He said he had spent nearly 3 million yuan at the store.
Warehouse raid
Shanghai Administration for Industry and Commerce sent a 70-member team to investigate Da Vinci's products in Shanghai on Sunday night after the broadcast. In one of the company's warehouses in Qingpu district, the team found some furniture that investigators think had false place-of-origin labels.
"We will take the suspected products back for examination and further investigate the company's sales," Zheng Hong, deputy head of the administration's fair trade division, said on Sunday.
The administration would not provide more information when China Daily telephoned Tuesday afternoon, saying it will take some time to complete the investigation.
Meanwhile, investigators returned to the warehouse on Monday and found 233 pieces of furniture labeled Cappelletti. Some did not appear to meet national quality standards, CCTV reported on Tuesday. On Wednesday, CCTV said the entry-exit inspection and quality bureaus of Shanghai and Shenzhen will review Da Vinci's import and export records for the past two years.
The foreign cachet
Why do some Chinese companies fabricate a foreign identity or business relationship? The answer involves quality images, both negative and positive.
Tencent, one of China's largest Internet service portals, launched a survey on the Da Vinci case on Monday. By Thursday morning, nearly 92,000 responses had been filed, 95 percent of them saying the company should be investigated.
To a question about the quality of made-in-China products, 61 percent of responses noted that there are both good and bad, but nearly 36 percent said there are more bad products.
What's the difference between imported and domestic goods? "Foreign products are good in quality and fashion in design," said Xu Qian, 29, a software designer in Beijing.
Liu Guang, who opened an online shoe store in June on retail platform Taobao, told China Daily on Tuesday that it's common for online stores in China to have French or French-sounding names for selling wine, Italian names for selling clothes and English names for electronics. "A foreign name . . . adds some exotic flavor to your products."
"Similar cases are common in the clothing industry of China," said Wang Fengchang, CEO of the legal website Laweach and a Beijing-based expert in consumer rights. He mentioned Nike and Adidas as an example.
"The two are famous foreign sports brands. In order to save on costs, they built many factories worldwide, including China," he said, "but they clearly marked the place of origin on every product, which is legal."
Wang also said Nike and Adidas products, even those made in China, cost twice as much as the same products under a Chinese brand. "That is the reason why many companies are seeking a foreign identity."
Wang said there are still essential differences between the real foreign brand and the fake one, even if both are made in China. Famous foreign companies will implement their standards of production and after-sale services, which will protect legal rights of customers, he said.
What to do
Wang said two laws can help consumers maintain their legal rights if they suspect something they bought was falsely labeled: The Contract Law of the People's Republic of China, issued in 1999, and the Law on the Protection of the Rights and Interests of Consumers, 1993.
"The two laws emphasize the honesty and credibility of both sellers and purchasers, as well as purchasers' right to obtain information." Wang said. "Purchasers can get back all the money paid. In some cases, they can also ask for compensation for the loss."
He said that Chinese consumers seldom seek redress in the courts for such losses because few are aware they can do so. "If people's attitudes gradually change, fewer companies will take the risk" to cheat customers through such means as a fabricated foreign identity.
Li Guangdou, an analyst on brand competitiveness, said Chinese companies have greatly improved their manufacturing capacity during the past three decades, but they still lag their Western counterparts in brand promotion.
"It results in some Chinese customers having a higher recognition of foreign brands, even though many Chinese companies can also produce high-quality goods," Li said on Wednesday. Li expects that the Da Vinci case will prompt Chinese consumers "to be more rational about foreign brands".
(China Daily 07/15/2011 page1)