Leaders to face penalties over local govt debt
Updated: 2011-07-11 07:55
By Zhao Yinan (China Daily)
| | | | | | | | | | | |
| --- | --- | --- | --- | --- | --- | --- | --- | --- | --- | --- |
|   | | Comments() | | Print | | Mail | | Large Medium  Small | 分享按钮 | 0 |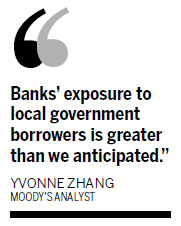 BEIJING - Local government leaders may find their career outlook dimmed and themselves liable for penalties if debts under their administration have "excessively mounted".
Yuan Shuhong, deputy director of the Legislative Affairs Office under the State Council, said local leaders should receive deductions in their job evaluation, if local debts exceed a certain limit.
Yuan failed to specify how much debt could negatively impact on a local governor's performance appraisal, but said if the situation was serious, the governor may also be penalized.
He said this would be part of efforts to change from a GDP-oriented model of growth to a sustainable and environmentally friendly one.
Yuan's remarks followed China's first announcement last month of its local debts.
Liu Jiayi, the country's top auditor, said in a report to the National People's Congress that local governments had an overall debt of 10.7 trillion yuan ($1.65 trillion) by the end of 2010, and some were at risk of defaulting on payments.
The scale, amounting to more than one-quarter of China's GDP in 2010, which stood at 39.8 trillion yuan, raised concerns that local government debt could destabilize the financial system of the world's second largest economy if it is not managed properly.
Although some analysts argued that concern over local government debt was unnecessary as long as the country maintained its rapid economic growth, some international investors have lowered their outlook on China's long-term local-currency rating.
Leading rating agency Moody's said on Tuesday that China's local government debt could be even larger than the official number, which may set off loan defaults.
"Banks' exposure to local government borrowers is greater than we anticipated," Yvonne Zhang, a Moody's analyst, told Reuters.
The agency also said that unless China comes up with a "clear master plan" to rectify the problem, the credit outlook for Chinese banks could turn negative.
Apart from a potential banking system breakdown, Yuan admitted local governments' somehow straitened circumstances could also trigger social problems, such as forced land seizures and shortages of farmland, since governments will be heavily dependent on land sales to finance debt repayments.
Yuan made the remarks at the second annual session of China's Administrative Reform Research Society in Beijing on Sunday. The society, which was founded last year, aims to investigate issues raised by the discrepancy between China's fast-growing economy and its relatively sluggish administrative reform.
China Daily
(China Daily 07/11/2011 page5)