SINGAPORE - The world's soccer elite is jetting into Asia for a promotional blitz targeting a swathe of booming cities as teams vie for a bigger slice of the region's growing wealth.
Ten top European clubs, one national side and some of the sport's best-known players are joining the roadshow, which gets into full swing with Arsenal and Liverpool's arrival in Kuala Lumpur next week.
Star-studded Chelsea and Real Madrid follow later, while Manchester United players brandishing the newly-reclaimed English Premier League trophy have already rattled through five countries and Hong Kong on a whistle-stop tour.
Blackburn Rovers and Aston Villa are also headed east to raise their profiles - and those of their sponsors - in a region which already provides a significant chunk of English Premier League (EPL) revenues.
Simon Thompson, east Asian head of soccer for marketing agency World Sport Group, said Asian and Middle Eastern broadcasters spent nearly one billion pounds ($1.6 billion) on the latest EPL TV rights contracts, roughly a third of the total worldwide.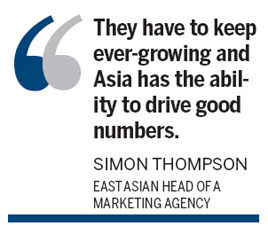 He said European clubs were keen to nurture an Asian fanbase to provide a long-term market for their products - which include shirts, memorabilia, tickets and in-house TV channels - and to help attract sponsors.
"They're like any brand, any modern-day company," Thompson said. "Asia is a big part of the global economy now. Alongside Brazil and Russia, it's a huge growth market, and like any brands, they want a piece of it.
"They have to keep ever-growing and Asia has the ability to drive good numbers."
Europe's summer swing will reach a peak at the popular Barclays Asia Trophy in Hong Kong, a hotbed of soccer support, where Chelsea, Blackburn and Villa will play at the end of this month along with domestic champion Kitchee.
"It is important for the club to expand its brand in the Asian market, so it is important to show ourselves to them as well," new Chelsea manager Andre Villas-Boas said this month.
Liverpool and Arsenal are both playing in Malaysia and in China, which will also host Cristiano Ronaldo's Real Madrid in August along with the Italian Super Cup, featuring Inter Milan and AC Milan, at Beijing's Bird's Nest stadium.
In September, world player of the year Lionel Messi will grace the unlikely venue of Kolkata when he headlines Argentina's friendly against Venezuela. Argentina is also scheduled to play Nigeria in Bangladesh's Dhaka.
Agence France-Presse
(China Daily 07/08/2011 page24)