BEIJING - China will become the world's biggest market for smart meters in four years because of its rapid development of the smart-grid industry and huge population, industry insiders said.
State Grid Corp has 300 million potential smart-meter users, worth 50 billion yuan ($7.7 billion) in business value for the meters alone, said Fei Yuhang, a member of the National Standardization Committee for Electrical Meters.
Fei, who also works as an engineer at Shanghai Belling Co, which holds more than a domestic market share of 30 percent in silicon chips for meters, said that in addition to smart meters, the market value for related equipment and software products will reach 70 billion yuan, presenting huge business opportunities to manufacturers of meters, silicon chips, batteries, LCD panels and other components.
The State Grid, the country's largest power-grid company, installed smart meters for 45 million users, 26 percent of its users, in 2010.
The company will have smart meters installed for all of its users by the end of 2014, according to a senior researcher at the State Grid Energy Research Institute who declined to be named.
The researcher said the State Grid has installed smart meters in all smart-grid communities spread across many provinces.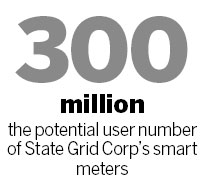 The researcher added that the features of the model to be used in the future is under discussion and its development will require cooperation between producers, users and service providers.
"We have invited many software and IT companies to participate in the process because there are still many problems to be solved - such as how to use the smart meters to strengthen the communication between users and power providers, how to set up remote connections to the meters and using the meters for power conservation," he said.
Fei told China Daily that Chinese companies can produce smart meters at a cost of 160 yuan to 300 yuan, a price foreign companies would find it difficult to match.
That means the smart-meter market is getting smaller for foreign companies and their profit is low.
"The technology used for domestic smart meters and foreign ones is similar, but foreign companies have difficulties in reducing costs," Fei said.
However, the researcher from State Grid Energy Research Institute said foreign companies tend to focus more on the users' side, so their technology for collecting information on their electricity use is more advanced than that of domestic companies.
"European countries make greater efforts to promote the use of smart meters than China does," he said.
The State Grid now has 70 million smart meters, according to Fei.
He said China will increase the amount by 50 million to 60 million annually until 2014.
Many foreign companies, such as Siemens AG and Google Inc, have stepped into the smart-grid industry and are interested in the market.
Li Jing, a lead research scientist at Corporate Technology Power and Water at Siemens Ltd China, said the company is also engaged in smart-meter research.
China Daily
(China Daily 07/08/2011 page16)