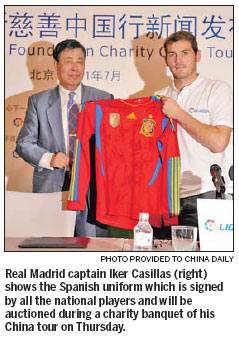 BEIJING - Real Madrid captain Iker Casillas said in Beijing on Wednesday the development of teenage soccer in China was key to the nation becoming a major player on the world stage.
"I hope more people will devote themselves to the development of youths," said Casillas, who led a young Spanish team to its first European Championship in 2008 and the World Cup title in 2010.
"Chinese soccer and Asian soccer are different from Europe, but you must work harder and harder to develop the sport from the grassroots; especially the training of teenagers," he said. "Because if you don't sow seeds today, you will never harvest talent and bring up the superstars of tomorrow."
The 30-year-old Spaniard, who was appointed a goodwill ambassador of the United Nations in January, has established a charity foundation in his own name with the help of renowned compatriots Rafael Nadal, Xabi Alonso and Sergio Ramos.
"There is a tradition in the sports circles of Spain, that all the players hope to pay society back as much as they can," Casillas said. "When I was a child, I became interested in soccer under the influence of my parents and then Real Madrid became my second home. Soccer gives me everything and I'm really grateful for that.
"I have taken part in many charity activities in the past six years. I have visited countries such as Sierra Leone, Mali and Peru, where people live hard lives, but I found they all know soccer, they know the Spanish national team and they know Casillas," he said.
"We can find people who love soccer from every corner of the world, and it lets us players know there are millions of fans standing behind us. Therefore, we hope to invite more people to do charity work through our influence."
Casillas will attend a charity banquet on Thursday and will auction off five items including a Spanish uniform which has been signed by all the national team members. He will also take part in a training camp for young goalkeepers with Chinese national keeper Yang Zhi on Saturday.
Casillas will visit China again with Real Madrid in early August, when the club will play games against Chinese Super League teams Guangzhou Evergrande and Tianjin Teda.
China Daily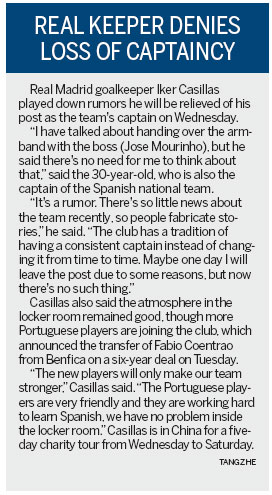 (China Daily 07/07/2011 page24)