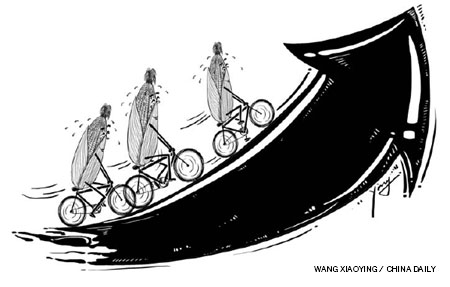 Just three years after the 2007-2008 food crisis, expanding biofuel production, rising oil prices, depreciation of the US dollar, extreme weather and export restrictions have again led to high and volatile food prices, threatening the well-being of the world's poorest consumers, who spend up to 70 percent of their income on food.
Any plan to curb food price volatility and protect the poor will require decisive action on a number of fronts, including taking measures to control speculation in agricultural commodities, promoting open trade, lifting export bans, establishing emergency food reserves, curtailing biofuel subsidies, and strengthening social safety nets, especially for women and young children.
The meeting of G20 Ministers of Agriculture in late June was an important step in addressing food price volatility and a clear indication of the commitment to helping the world's most vulnerable people.
Despite consensus on the overall plan, a number of critical questions still need to be addressed, including: What are the most pressing priorities? How should we execute important measures, and when should we do so?
In terms of priority, the three most urgent actions are:
First, the international community has to halt the increase in biofuel production from corn, oil seeds and other grains by curtailing subsidies and reforming policies to end the competition between food and fuel.
Second, it has to provide social safety nets for the poorest people, particularly women and children.
And third, the international community has to eliminate trade restrictions on agricultural commodities such as export ban, import tariffs, and non-tariff barriers, and refrain from imposing new ones. This will enhance the efficiency of global agricultural markets, lowering prices for consumers and increasing opportunities for smallholding farmers to export their produce.
By supporting technology investments and removing counterproductive measures, such as corn ethanol subsidies that encourage the use of food crops for fuel, public policies can help lower the cost of food. For example, if second-generation technologies are used to sustainably produce biofuels from the non-edible parts of crops, such as stems, leaves and husks, the price of grain and grain-dependent commodities such as meat could fall.
Social safety net programs need to be better targeted so that they reach the poorest households, which are most vulnerable to weather and health shocks. Social protection policies should also offer important opportunities to people to escape from the inter-generational cycle of poverty. By combining social protection with agricultural support, innovative approaches, such as Ethiopia's Productive Safety Net Programme, can increase the positive effects on food security.
In addition to these critical steps, achieving food security requires long-term investments to increase the productivity, sustainability and resilience of agriculture, especially among smallholding farmers, many of who live in absolute poverty and are malnourished. Millions of poor, smallholding farmers struggle to increase their output on tiny plots of degraded land, far from the nearest market. Lacking access to decent tools, quality seeds, credit and agricultural extension, and being highly susceptible to the vagaries of weather, they work hard but reap little.
Exploiting the vast potential of small-scale agriculture would increase productivity and incomes where they are most needed - Sub-Saharan Africa and South Asia. The two regions are not only home to the majority of smallholding farmers and people living in extreme poverty, hunger and malnutrition, but they also have rapidly growing populations. Improving smallholding agriculture could take the pressure off global food and agricultural markets and cushion the negative impacts on the poor who are most vulnerable to volatile markets.
Harnessing the promise of smallholding farmers, however, will require concerted action in a number of areas.
First, investments that improve farmers' productivity, such as better access to high-quality seeds, fertilizer, and extension and financial services, should be increased along with spending on roads and other rural infrastructure to improve farmers' access to markets. Investments in agricultural research should focus on new agricultural technologies that are well suited for smallholding farmers, as well as other innovations, including insurance schemes that can reduce the risk small-scale farmers face because of extreme weather and high price volatility.
Second, though increasing productivity and incomes is crucial, it is not sufficient. Agricultural development among smallholding farmers should also improve their and their families' nutrition and health. Growing more nutritious varieties of staple crops that have higher levels of micronutrients like vitamin A, iron and zinc can potentially reduce death and disease, especially among women and children. Producing more diverse crops, especially fruits and vegetables, can also help combat malnutrition, and selling more nutritious food could increase incomes and provide additional employment.
Third, since smallholding farmers are extremely vulnerable to weather shocks, including escalating threats from global warming, promoting climate change adaptation and mitigation is important to protect them against risks and potential crop loss.
With the right incentives and technologies, smallholding farmers can invest in mitigation efforts, including managing their land to increase carbon storage. Sub-Saharan Africa, for example, has 17 percent of the world's potential for climate change mitigation through sustainable agricultural practices.
Finally, policies and programs need to narrow the gender gap in agriculture and address the specific constraints faced by women. Although woman farmers do much of the work to produce, process and sell food in many countries, they frequently have less access than men to land, seeds, fertilizer, credit and training. When women get the same levels of education and have equal access to extension and farm inputs, they produce significantly higher yields.
By taking concerted action on several fronts, it is possible to curtail price volatility, reduce poverty and achieve long-term global food security. But we need to act now. The poor cannot continue to pay the high price of hunger because of our inaction.
The author is director general of the International Food Policy Research Institute in Washington D.C.
(China Daily 07/06/2011 page9)