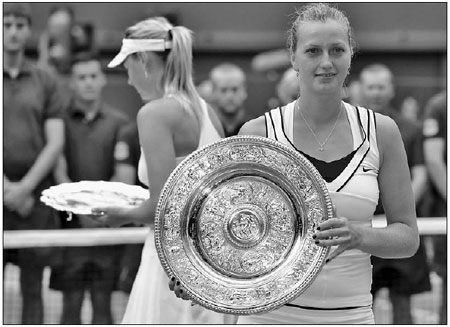 Czech player Petra Kvitova (right) poses with the Wimbledon trophy as Russia's Maria Sharapova walks off after Kvitova won the women's final of the 2011 Wimbledon Championships at the All England Tennis Club, in south-west London on Saturday. [Photo/Agencies]
LONDON - Will winning Wimbledon be a life-changing experience for the Czech Republic's Petra Kvitova? Not if she can help it.
"I'm not thinking of myself as a star. I just want to stay and be normal like I am, hopefully," the shy 21-year-old, who lives in sleepy Fulnek where there are just a handful of tennis courts, said on Saturday.
"Hopefully I'm still the same person. Hopefully there'll be no change in my life."
Asked how she felt about all the media attention that will inevitably come her way following the defeat of Maria Sharapova in Saturday's final, Kvitova just apologized for being weary after a draining two weeks.
"I'm so tired so I'm sorry if there's something wrong," the newest member of the Grand Slam winners' club said with a smile.
Russian Sharapova is the world's highest-paid sportswoman and is engaged to two-time NBA champion Sasha Vujacic. Kvitova's life is a little different.
"Every night I had a pineapple with my fitness coach," she said, beginning to giggle, when asked about her tournament rituals.
Although she struggled with the English language, Kvitova's modesty was obvious.
"I did not think I could be professional because I was only practising after school for an hour or one-and-a-half hours," said the world No 8 and five-time tour winner.
Kvitova is only the fourth left-handed female Grand Slam winner of the Open era. Much will now be expected of the talented Czech, whom nine-time Wimbledon champion Martina Navratilova described as "sweet" before the final.
Reuters