Yu Liuliang and Luo Tiansheng may have one of the largest collections of money and stocks in the country - but they're not rich.
Most of their collection consists of delicate, yellowing bits of paper that have not been in circulation for decades. The pair's savings have been exhausted by the cost of adding to their collections.
Yu, who has more than 25,000 kinds of bills and coins from 230 countries, and Luo, who specializes in stock paper collecting, are holding a "red" exhibition featuring money and stocks issued between 1930 and 1949, when the People's Republic of China was founded.
Occupying the second floor of the glass-and-steel Nanmatou Community Center, near 2010 Expo Park in Shanghai, the exhibition displays about 300 items, many for the first time.
"The exhibition is the first of its kind in the city, specializing in bills, coins and stock notes from the most critical moments (in history) of China and our Party," says Liu Chao, director-general of Shanghai Collection Club, the exhibition's main organizer.
"Visitors will see a different side of history," Liu says. "For example, they can see how the first generation of money was made and what it looked like."
The collection has three versions of the 500 yuan note issued by Northeast Bank in 1947, with a portrait of former chairman Mao Zedong; the 1 jiao note issued by Shaanbei (Northern Shaanxi province) Industrial Bank in 1935 to commemorate the completion of the Long March; and the 10,000 yuan note issued by the People's Bank of China in 1949.
"The value of these notes lies in the fact they were made so coarsely - there is no way to replicate them today," says 69-year-old Yu, who is a coin-minting professor.
"Most of the notes were produced from low-quality paper and handmade with stones, which were the only accessible tools during the difficult wartime period," explains Yu, who has been a numismatologist (an expert in coins' relation to history) for more than 40 years.
One of the highlights of the exhibition is the "first stock" note issued after 1949. It was issued by Shen Laizhou, founder of Shanghai Hengfeng Lint Factory - one of the biggest factories in the city then - on the new government's founding day.
"It wasn't a coincidence that the two events fell on the same day," says Luo, who started his hobby of collecting stock notes while working as a stock trader.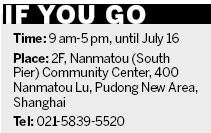 "It was a deliberate choice made by Shen, a capitalist who used to distrust the new government but was later moved by its goodwill and then decided to show his support," he adds.
Luo says most of the stock papers were destroyed or lost during the "cultural revolution" (1966-1976) and it is difficult to track their value.
"But the historical and artistic value of these papers is everlasting," Luo says. "As they witnessed the ups and downs of the country's economy, I believe their economic value will also grow, as more people learn their history and they become increasingly difficult to find."
Luo got his stock papers from what he calls "a network of weird collectors".
"If you are still thinking about getting lucky at some street stalls, there is a large possibility that you will be fooled," Luo says, with a loud laugh.
China Daily
(China Daily 07/02/2011 page11)