Cheng Taining insists Chinese architecture should give full scope to its history and culture. Zhang Wei / China Daily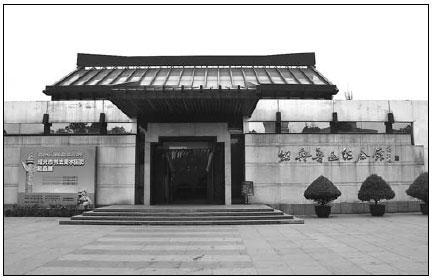 The black-and-white Lu Xun Memorial Hall is one of Cheng's designs featuring Jiangnan culture. Feng Jun / for China Daily
Veteran architect Cheng Taining says the country's architects need to stay in touch with their roots if they are to become truly international. Yu Tianyu reports.
While renowned foreign architects aggressively try to stamp their signature styles on the landscape of China, 76-year-old Chinese architect Cheng Taining insists buildings should speak Mandarin and be designed according to the tenets of Chinese culture.
"It is really painful to see the characteristics of ancient China's architectural style losing out," says Cheng who has completed over 90 projects here and abroad, such as Nanjing Museum, the National Theater of Ghana and Mali Parliament Building.
He adds, only when Chinese architecture is truly integrated, giving full scope to its history and culture, will Chinese architects have a say in the world's architectural circles.
Born in 1935, in Nanjing, capital of Jiangsu province, Cheng got into architecture by mistake.
"When I applied for college, I was eager to choose literature as my major," he says. "But, my father was strongly against the decision because he thought I would have a brighter future if I studied a science."
"My aunt told me that architecture is a subject combining literature and science, so I entered Southeast University and started my career," he adds.
Cheng says that architecture for him is about creating his own utopia by playing with space.
Several years after graduating in 1956, just when Cheng was fully prepared to give full play to all his talents, the "cultural revolution" (1966-76) crushed all his dreams.
He was initially assigned to work at China Academy of Building Research and did some research for some significant projects, including the Great Hall of the People.
"But, apart from some paper work and research, I never did any working drawings during my several years in Beijing," Cheng says. "However, I read many helpful books during that period, while Architectural Record and Architectural Review were the two magazines that impressed me most."
In 1970, he was sent to work in Shanxi province's Linfen, then worked at the Hangzhou Architectural Design and Research Institute, only starting to design when he was 45 years old.
"There were many things deep in my heart being suppressed at that time and that's why I, as well as many other architects of my generation, value the current environment and opportunities so much," he says. "I love architecture far more than before."
Having lived and worked mainly to the south of the lower reaches of the Yangtze River, in Jiangnan, Cheng says Jiangnan culture has had a huge impact on his work.
The Lu Xun Memorial Hall is one of Cheng's designs featuring Jiangnan culture. Completed in 2004, in Lu Xun's hometown of Shaoxing in Zhejiang province, the building is in black and white, based on the complementary concepts of yin and yang.
Using modern construction materials, but with blue stone alleyways, the hall's design complements the nearby former residence of the writer.
The Zhejiang Art Museum that opened in 2008 also makes a nod to Jiangnan culture with its white walls and black-tiled roof. The black edges of the eaves, flush with the white walls, look like a traditional wash-and-ink painting.
"As an architect, when you are doing different projects in different places, you have to seriously consider the various regional characteristics," he explains.
As an academic at the Chinese Academy of Engineering, Cheng also teaches students at Southeast University in Nanjing.
"An America friend used to ask me whether it would be good or not, if China has its own Zaha Hadid (Iraqi-British architect)," Cheng says. "I answered that it could be helpful, but it would be stupid if everyone copies her."
Good architects should have construction experience and not just indulge themselves in designing something that will never be completed, he adds.
There are problems among young Chinese architects. "Some of my students didn't know where the washing machine or air conditioner should be placed in a room," he says. "One girl even put a bathroom next to the elevators when she designed a commercial project."
"I asked her how she would feel if she was taking a shower and was watched by strangers and she was silent," he says.
Architecture, he says, is the repository of experience.
"For example, when you design a museum, you must visit hundreds of museums to become familiar with the flow of visitors and become acquainted with the detailed functions of the museums," he explains.
"When I was young, I used to climb on to the roof of a house I liked and notice all the details and measure the height," he says.
Cheng encourages his students to study different forms of architecture and develop cross-cultural knowledge in addition to having hobbies.
Architecture is not only a kind of art, but also a combination of environment, social phenomena, cultures and many other elements, he says. "Everything can help your design."
(China Daily 06/29/2011 page20)