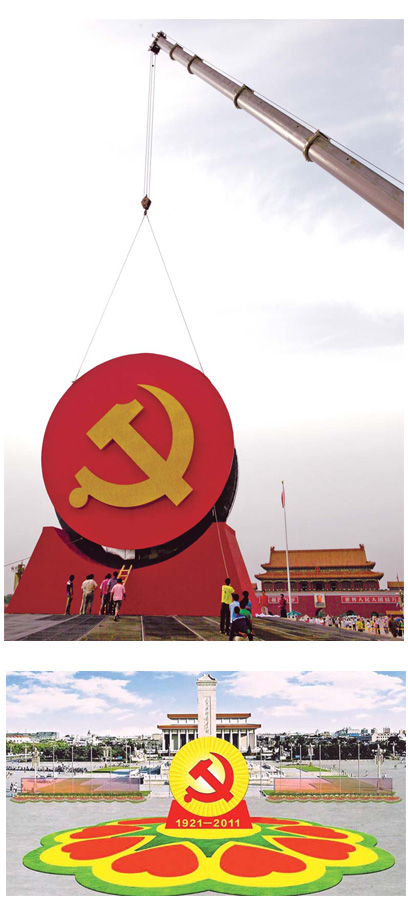 Top: Workers place a giant emblem of the Communist Party of China (CPC) at Tian'anmen Square in Beijing on Monday. The emblem is part of a parterre being prepared to celebrate the 90th birthday of the CPC. Below: A design sketch of the parterre. Feng Yongbin / China Daily and Provided to China Daily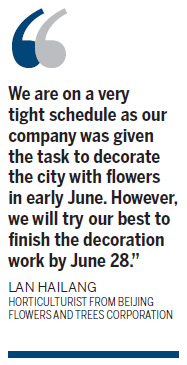 Lights and decorations will turn Tian'anmen into Party centerpiece
Editor's note: As the 90th anniversary of the Communist Party of China (CPC) draws near, China Daily reporters go around Beijing to cover how work on the flower decorations is progressing at Tian'anmen Square, the role of Party branches in foreign businesses in the capital city, as well as the release of a documentary about the life of Li Dazhao.
BEIJING - June has been an extremely busy month for Xing Yu, the chief designer of the parterres on Tian'anmen Square. Recently, Xing has been working until midnight every day to prepare a gift of flowers for the 90th birthday of the Communist Party of China (CPC).
To create a festive atmosphere for the 90th anniversary of the founding of the CPC, Tian'anmen Square and Chang'an Avenue in Beijing will be decorated with millions of flowers, said Xing, who is a senior engineer from Beijing Flowers and Trees Corporation.
The centerpiece at Tian'anmen Square will be made of two parts, with a sculpture of the Party's logo in the middle and nine heart-shaped petals formed by blossoming flowers, Xing revealed.
More than 150,000 plants, including poinsettia and French marigold, will be used in the centerpiece, she added.
Considering the high temperatures in Beijing at this time of year, the decoration will feature only plants that flower in summer and will be able to endure the blazing sun for a long time, said Xing.
"We are on a very tight schedule as our company was given the task to decorate the city with flowers in early June," said Lan Hailang, a horticulturist from Beijing Flowers and Trees Corporation.
"However, we will try our best to finish the decoration work by June 28," said Lan, who has participated in decoration work for Tian'anmen Square since the year 2000.
The flowers can stay fresh for at least 15 days, making Beijing more beautiful and ensuring visitors can take excellent pictures at this significant moment in the Party's history, Xing said proudly.
From June 30 to July 3, all lighting on the square will be lit up at night and the fountain in front of the square will operate from 9 am to 9 pm, the Beijing municipal commission of city administration announced on Wednesday.
The commission also said that from June 28 some commercial advertisements at the city's bus stops will be replaced by the Party's flags or slogans relevant to the celebration of the 90th anniversary of the founding of the CPC.
China Daily
(China Daily 06/28/2011 page7)