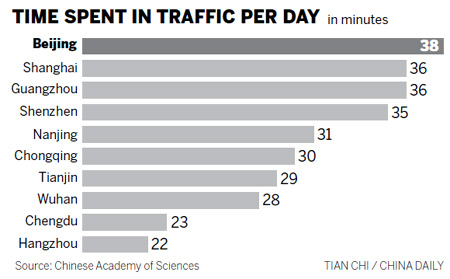 Capital's drivers still face China's slowest journeys to and from work
BEIJING - Beijingers have the longest commutes of any city dwellers in China, spending an average of 38 minutes traveling to and from work on the city's busy roads, according to a study released last week.
Calculations by the Chinese Academy of Sciences found that Beijing tops 50 major cities in commuting times, while the eastern financial center of Shanghai and the southern economic hub of Guangzhou followed it closely with 36 minutes each.
In total, residents from six cities out of the 50 analyzed, spend more than 30 minutes in traffic.
Besides Beijing, Guangzhou and Shanghai, the three other cities are the booming southern city of Shenzhen (35 minutes), East China's Jiangsu provincial capital Nanjing (31 minutes), and Southwest China's Chongqing municipality (30 minutes).
Last year, the same report found Beijingers spent an average of 52 minutes on the way to and from work, also leading the list.
Many netizens said they were shocked to see the commuting time is 14 minutes shorter than last year, and thought the actual time should be at least double that.
The report's compilers explained that the calculation method has changed.
The Mirror Evening News quoted an anonymous source working for Professor Niu Wenyuan who led the project, saying that this year's figure does not include the time caused by traffic congestion.
It is an "ideal value" instead of the "absolute value" given last year, said the source, without elaborating on why the compilers decided to change the calculation method.
China Daily tried to reach the report's team on Sunday, but phone calls went unanswered.
Not convinced by the explanation, many netizens living in Beijing said their de facto commuting time is about one hour.
"The commuting time calculated under the condition of no traffic jams means nothing to us," said netizen Yizhiyu in a posting at Sina.com.cn, a major news portal.
It is not the first time that Beijing, a mega-city covering 1,289 square kilometers with a population of 20 million, has topped such surveys, even those with a global range.
Last year, Beijing earned the dubious honor of topping IBM's first Global Commuter Pain Index, which surveyed 8,192 drivers in 20 international cities.
Many blamed the rapid growth of cars in the city for the worsening traffic conditions.
According to figures released by the Beijing municipal statistics bureau on March 1, Beijing sold 4.97 million automotive vehicles from 2006 to 2010, which is 2.6 times more than were sold from 2000 to 2005.
As of March, the number of cars in the city had reached 5 million, Beijing Daily reported.
Due to the rapidly increasing number of cars, the municipal government now allocates car license plates to new car buyers through a lottery system, aiming to restrict the increase in new cars to 240,000 a year.
The city also raised downtown parking fees and has been closely monitoring cars parked in incorrect places since April, forcing many car owners who cannot find a cheap parking space to commute by public transport.
The measures are said to have had some effect, as some car owners have said that congestion has eased a little.
"I think the time I spent on the road is five to 10 minutes less than before. It now takes me half an hour to drive to work," said Zhang Hongzheng, a Beijinger, whose employer provides free parking lots.
China Daily
(China Daily 06/27/2011 page5)