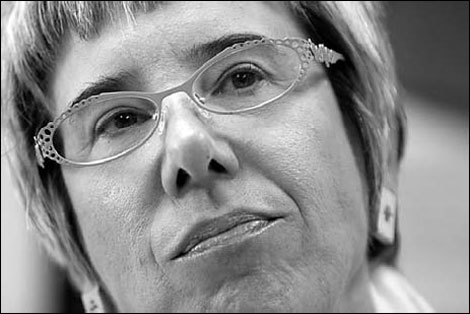 Inma Gonzalez Puy has lived in China since 1979 and helps promote Spanish culture. Liu Zhe / For China Daily
When Spain won the World Cup last year it was not only an exciting time for football fans but it also kick-started a Spanish-language learning boom in China. Beijing's Cervantes Institute is now full of Chinese students busy reading in the library or preparing for classes. Spanish, once considered a minor language in China, is now appealing to more young people looking to broaden their horizons and find international jobs.
Institute director Inma Gonzalez Puy, speaking in perfect Mandarin, says she wants more Chinese people to understand Spanish and appreciate her native culture.
"There are more than 1 billion people in the world speaking Spanish, so it is not a minor language as many Chinese people may think," she says.
In 2006, the Spanish government founded the Beijing Cervantes Institute as part of an agreement between China and Spain.
The institute not only provides language classes but also facilitates better cultural understanding between the people of both nations. Gonzalez Puy played a key role in setting up the organization.
"At present, Chinese people are getting more and more familiar with Spain and Spanish culture. However, there are still lots of things about Spain that they do not know, like Spanish fashion design, food, architecture and our healthy lifestyle," Gonzalez Puy says.
Business relationships between China and Spanish-speaking South America are growing fast as China places more importance in this developing market.
Chinese companies trying to do business in South America are now seeking more employees who can speak both Chinese and Spanish. "So learning Spanish helps students find a more satisfactory job," she says.
The number of students learning Spanish in Beijing Cervantes Institute is increasing year by year. In 2010, about 5,000 Chinese students were learning Spanish and the number has risen further this year.
The institute also helps students find jobs by introducing candidates to recruiting companies.
Spanish-speaking Chinese have also used their new skills in other ways. Before the 2008 Beijing Olympic Games, Gonzalez Puy's team taught Spanish to hundreds of Chinese volunteers so they could better serve visitors from Spanish-speaking countries.
During that period, the Cervantes Institute also held an exhibition of Picasso's paintings as part of the Olympic celebrations.
Gonzalez Puy first came to China in 1979 but had already developed a strong affection toward the nation.
As a young history student in Spain she began taking more interest in China after reading the novels of Pearl Buck, a Nobel Prize-winning writer who lived in China in the 1930s. Her epic works, such as The Good Earth and Dragon Seed vividly described the lives of Chinese peasants. The books of author Lin Yutang also gave her much inspiration.
"After I read the books of Pearl Buck and Lin Yutang, I could not help thinking that we really should take more effort to know and understand China," she says.
"China is a large country and Chinese culture has lasted for thousands of years. It is a pity that we know so little about it."
In Spain, she decided to learn Chinese but in the late 1970s, there were no schools offering language lessons. She met an official from the Chinese embassy who recommended a Chinese language college in Beijing. She began part-time jobs to save money for her next big step.
Her Chinese friends in Spain, moved by her love for China, began teaching her the basics of the language and even a little kungfu. Finally, Gonzalez Puy worked at a Chinese restaurant as part of her preparation.
In 1979, Gonzalez Puy came to Beijing and took to the language like a duck to water. In 1983, after graduating, she won a job at the Spanish Embassy in China as a culture attach.
The Cervantes Institute (http://pekin.cervantes.es) in Beijing regularly features lectures, art exhibitions and movies as well as offers language classes, art and theater salons designed to spread Iberian culture across China.
China Daily
(China Daily 06/26/2011 page4)