Beijing
Classic favorites
The opening ceremony program of the 2011 summer vacation concert series will be staged by the Beijing Symphony Orchestra. Led by Tan Lihua, director and chief conductor of the orchestra, the concert will feature such classical favorites as Blue Danube, Voice of Spring, Hungarian Dance No 5, Light Cavalry Overture and selections from Swan Lake.
7:30 pm, July 16. Forbidden City Concert Hall in Zhongshan Park, Northwest of Tian'anmen Square. 010-6559-8285
Celebrating Hong Kong
A free art exhibition takes Beijingers along six of the city's "heritage routes" through the illustrations of Hong Kong illustrator Prudence Mak. Chinese and Western cultures meet in the city's historic architecture. The show, which celebrates the 14th anniversary of the establishment of the Hong Kong Special Administrative Region, also includes a mini-theater with popular movie clips that feature Hong Kong's historic buildings.
6-10 pm, July 1; 10 am-10 pm July 2-5. The Orange, Sanlitun Village, Gongti Beilu, Chaoyang district. 010-8795-4556
Shanghai
Mamma Mia!
The Broadway musical Mamma Mia! will be presented in Chinese. Mamma Mia! is a stage musical written by British playwright Catherine Johnson, based on the songs of Swedish pop group ABBA. The Chinese version, the 13th non-English version of Mamma Mia!, is a joint production of the original producing team and China Arts and Entertainment Group.
7:15 pm, 2 pm, every Sat and Sun from July 8 to Aug 5, except Mondays. Shanghai Grand Theater, 300 Renmin Avenue. 400-818-3333
Parallel lives
Qiyue and Ansheng, a modern drama adapted from a novel of the same title by contemporary woman writer Anne Baby will be staged. Jiang Yiyan, famous for her acting in movies and TV plays, will take the leading role. In the play, Qiyue and Ansheng are two best friends, two women of completely opposite characters. They fall in love with the same man, and arrive at opposite destinations.
7:30 pm, July 12-16. Shanghai Oriental Art Center, 425 Dingxiang Lu. 400-820-1585
Impressions of Oman
Tang Jue's photographs of Oman are on exhibition at Ray Art Center. Tang emphasizes the effect of the natural light in his works and the contrast of light and shade. Through the lens, visitors and enjoy the architecture, the people and the street scenes of the country.
10 am-6 pm, until July 11. Ray Art Center, Room 161, Block 5-A, Sports Loft, 128 Huayuan Lu. 021-3100- 1112
Hong Kong
The Great Finnish
The Kuhmo Festival with Trey Lee will bring an earful of Scandinavia to Hong Kong this month. The Kuhmo Chamber Music Festival is Finland's largest chamber music extravaganza, held every year in the town of Kuhmo for the past four decades. Artistic director and viola soloist Vladmimir Mendelssohn will lead a stellar cast of international musicians in two concerts featuring the works of Haydn and Brahms. Artists include Finnish violinist Petri Aarnio and pianist Paavali Jumppanen, along with Hong Kong's own celebrity cellist Trey Lee.
3:30 pm, June 29, Foyer, Hong Kong Museum of Art, 10 Salisbury Road, Tsim Sha Tsui; 8 pm, June 30, Theatre, Hong Kong City Hall, 5 Edinburgh Place, Central. 852-2268-7321
La Dolce Vita
A month of Italy 2011: Quality & Lifestyle festivities conclude dramatically. Hot on the heels of last year's Italian production, the Italian Chamber of Hong Kong presents the English version of Nobel Prize winner Dario Fo's Non Si Paga! Non Si Paga! The ironic tone of Fo's play is underscored by his larger than life characters lamenting on the contemporary issues we all face daily - the economic crisis, the power of money and consumer awareness.
8 pm, June 29-July 2; 3 pm, July 1- 3. McAulay Studio, Hong Kong Arts Center, Wanchai. 852-2734-9009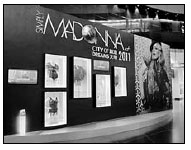 Macao
Material world
As part of City of Dream's second year anniversary celebrations, the leisure and entertainment mecca is presenting Simply Madonna at City of Dreams 2011. Some 50 items from the pop legend's outrageous costumes worn at her sell-out concerts in the past three decades are on display. These include her now much copied bustier outfit made famous during the Who's That Girl 1987 world tour. Other highlights will be the dresses Madge showcased in her starring turn as the title character in the 1996 film Evita, original lyrics and other concert memorabilia.
Until July 24. City of Dreams, Estrado do Istmo, Cotai. 853-8868-6688
(China Daily 06/26/2011 page15)