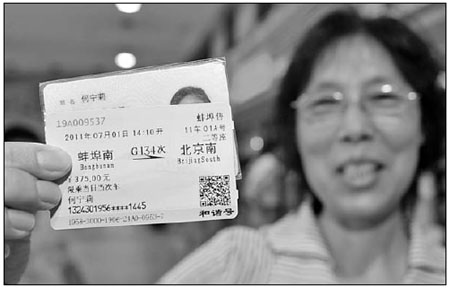 A woman displays the ticket of the Beijing-Shanghai high-speed train in Bengbu Railway Station in Anhui province on Friday. Liu Junxi / Xinhua
BEIJING - Tickets for the Beijing-Shanghai high-speed trains went on sale on Friday, allowing passengers to travel on the much-anticipated new line as early as June 30.
"We were notified by the railway authorities before dawn and started to sell tickets to the public at 9 o'clock sharp," Yu Xuejin, director of the publicity office at Beijing Railway Station, told China Daily.
The Ministry of Railways announced on Thursday that the first pair of trains will leave from Beijing and Shanghai on 3 pm next Thursday, one day before the 90th anniversary of the founding of the Communist Party of China.
The railway authority said passengers can buy tickets at railway stations, ticket agents or by logging onto the website www.12306.cn.
"Tickets for the first train from Beijing South Railway Station to Shanghai Hongqiao Railway Station were sold out within one hour as too many travelers want to experience the inaugural trip," he said.
After waiting 20 minutes in a queue at Beijing Railway Station, Li Sisi, a 27-year-old Beijing resident working at a local law firm, was thrilled to get her ticket.
"I read the newspaper this morning and rushed to the station right away to buy a ticket. I'm very excited to see how fast and convenient the train really is," she told China Daily on Friday afternoon.
Starting June 1, the railway authorities introduced a new ticketing system that means passengers who want to ride high-speed trains have to show identification certificates to buy the tickets in order to prevent scalping.
"The rule applies to the Beijing-Shanghai trains as well," Yu Xuejin said, adding that for overseas passengers, passports, residence permits and foreign citizen exit-entry permits are all acceptable certificates.
However, the limits on ticket buying may cause problems for some foreign travelers, as well as those coming from Hong Kong, Taiwan and Macao if they want to buy tickets at travel agent outlets in the city.
"Our machine only recognizes the ID cards of Chinese mainland citizens," said a staff member surnamed Kong at a ticket booth in Chaoyang district .
Ji Ji, a Shanghai resident, said she intended to buy her ticket online, but was unable to do so on Friday afternoon as the website was jammed after too many people visited at the same time.
However, those who do succeed in booking online will only need to scan a latest version ID card to board the train. However, the paperless service is not available to foreigners, who will still need paper tickets before boarding.
According to the railway ministry's previous announcement, tickets for trips on trains running at 300 km/h will be priced at 555 yuan ($86) for second-class seats and 1,750 yuan for business class. For the 250 km/h trains, prices will range from 410 yuan to 1,220 yuan.
There will be 90 pairs of trains traveling along the 1,318 km route every day, according to the ministry.
He Dan contributed to this story.
China Daily
(China Daily 06/25/2011 page4)