FM: Nation honors South China Sea commitments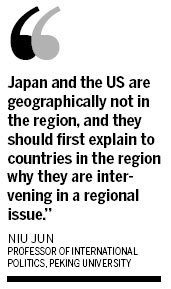 BEIJING - China attaches great importance to the positive role that the Declaration on the Code of Conduct on the South China Sea plays and strictly abides by it, a Foreign Ministry spokesman said.
Ministry spokesman Hong Lei said at a news briefing on Thursday that China pays great attention to the role that the declaration plays in safeguarding regional security and enhancing mutual trust between China and Association of Southeast Asian Nations (ASEAN).
Since the signing of the declaration in 2002, China has been actively promoting its implementation, he said.

Today's Top News
Editor's picks
Most Viewed