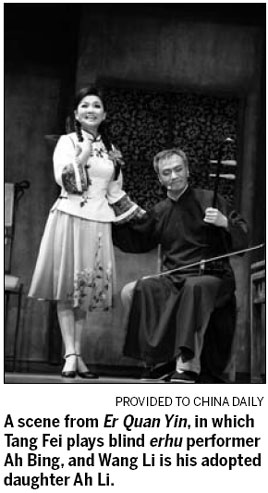 The Performing Arts Company of China's Air Force, best known for its 1964 production of Jiang Jie, one of the nation's most popular operas, will stage Er Quan Yin, an original Western-style Chinese opera, in the capital.
Based on the story of legendary Chinese erhu performer, Hua Yanjun, or Blind Ah Bing, the opera tells the story of an erhu performer, Ah Quan and his adopted daughter Ah Li, who struggle to make a living in the 1950s.
Renowned erhu pieces of the blind street musician Hua, such as Er Quan Ying Yue, or Moon Reflects over the Second Spring, made in 1950, will be played as the story unfolds.
Director Wang Yansong, whose 1984 production Da Cuo Che, or Taking the Wrong Bus, is considered the first modern musical in China, points out that the story of Ah Bing is well-known in China, with "even students exposed to his masterpieces in their music classes", he says. "It's a natural choice for an opera that can be understood and enjoyed."
Composer Meng Qingyun, who has written all the songs for Er Quan Yin, says: "The most difficult part of creating music for an opera is connecting the roles to the musical pieces.
"The singing should reflect the characters' inner worlds."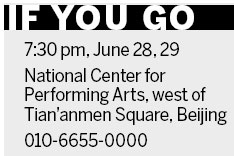 Although this is the first time Meng has written music for an opera, he is confident about audience feedback.
Thirty-year-old soprano Wang Li will sing the main role, Ah Li, a sentimental and virtuous girl from south China. She also played the title role in Jiang Jie, the Communist heroine of China's civil war before 1949.
Yang Yuelin, director of the Performing Arts Company of China's Air Force, says the opera has successfully toured around the country this past year. "The feedback from audiences proves an original Chinese opera is as charming as any Western one," he says.
China Daily
(China Daily 06/24/2011 page20)