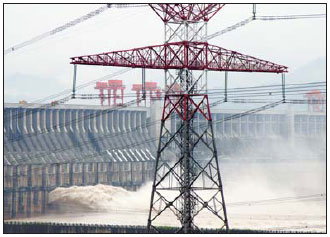 The Three Gorges Power Plant in Yichang, Hubei province. China will increase the share of non-fossil fuels to 20 percent of national energy consumption by 2030 and to one-third by 2050. Liu Junfeng / for China Daily
BEIJING - China will invest 400 billion yuan ($62 billion) in the construction of four hydroelectric dams, to help the government boost the share of non-fossil fuels in national energy consumption.
The country will increase the share of non-fossil sources to 20 percent of national energy consumption by 2030 and to one-third by 2050, said Han Wenke, director of the Energy Research Center at the National Development and Reform Commission on Wednesday.
"There is no doubt that the country is able to increase non-fossil sources to 15 percent of the energy mix by 2020," he said.
China Three Gorges Corp will be in charge of the four hydroelectric dams, named Xiluodu, Xiangjiaba, Wudongde, and Baihetan, on the Jinsha River, a tributary of the Yangtze River, the longest river in Asia and the third-longest in the world.
Part of the investment will be provided by equity trading, said Li Jing, deputy director of the company's planning and development department.
He declined to disclose further details of the financing plan.
The total installed capacity of the four dams will be 43 million kilowatts (kW), and is expected to be double that of the Three Gorges Dam, the world's largest power station in terms of installed or production capacity, according to the company.
The four hydroelectric stations will be able to supply 190 billion kilowatt hours annually when the project is completed.
The production efficiency and environmental and geological impact of the Three Gorges Dam have been the focus of intense discussion recently. Some experts said the plant has severely polluted the local environment.
However, industry insiders argued that it is necessary for the country to continue the development of hydroelectric stations.
"To increase water-power generation is still the priority for the power industry," said Ouyang Changyu, deputy secretary-general of the China Electric Council. "As long as the government can balance the contradiction between the construction of hydropower stations and the environment, it can develop hydropower production at a reasonable pace."
"It is impossible for the country to increase the non-fossil energy share to 15 percent in the energy mix by the end of 2020 if it slows the construction speed of hydroelectric stations," said Li. "In fact, the unit cost of hydroelectricity is lower than coal-fired electricity if we add the environmental cost into the calculation."
According to the company, the Xiangjiaba and Xiluodu hydropower stations are likely to be operational within the next two years. The Xiangjiaba hydropower station is scheduled to start running in 2012 with an installed capacity of 6.4 million kW, followed by the Xiluodu station in 2013 with 13.68 million kW of installed capacity.
China Daily
(China Daily 06/23/2011 page13)