The Nanhai district government in Foshan has signed an agreement with the State Intellectual Property Office (SIPO) to establish China's first State-level demonstration zone for intellectual property financing and investment.
The district in South China's Guangdong province will now be home to a zone "that combines intellectual property with financial capital to better regulate management of intangible assets and also optimize the IP structure of companies", said Ma Weiye, director general of SIPO's patent management department.
"When the zone is completed, intellectual property will play a more important role in business operations by attracting strategic investors to Nanhai companies in addition to serving as collateral to borrow money from banks," he added.
Five more banks recently signed agreements with the local government for IP-collateralized financial services.
The local government now has seven banking partners including State-owned lenders and local financial institutions.
Investment banks have also expressed an interest in deepening their business with Nanhai companies.
China Merchants Bank's Foshan branch can loan 15 to 30 percent of the value of patents or trademarks owned by high-tech companies, according to the head of the branch.
Company sales are another important element in the bank's decision to extend a line of credit, he said.
Nanhai district has received 29 IP-collateral finance applications this year. To date, four companies have been granted bank loans totaling 18 million yuan ($2.7 million).
"We got a loan with the aid of intellectual property," said Guo Huazhong, general manager of a local high-tech company. "The money was mainly used for marketing, which greatly increased our business performance."
The company filed another patent this year valued at 3 to 5 million yuan, Guo added. "We want to use it to increase our registered capital and expand our scale of business."
The trend of using IP to raise capital "will bring many benefits to companies", said officials at the Nanhai intellectual property office.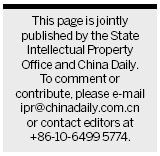 One breakthrough is wider opportunities in inviting or submitting bids in processes that require greater registered capital. The added value of IP will also be significant if companies are listed, according to the officials.
To facilitate IP-collateral loans, a range of intermediary organizations will be established in Nanhai this year including an evaluation and management center, an international information analysis center and a unified exchange for trade in intellectual property.
China Daily
(China Daily 06/22/2011 page17)