EDITOR's Note: Every week we look at a work of art or a cultural relic that puts the spotlight on China's heritage.
The Tang Dynasty (AD 618-907) is widely acknowledged as one of the most glorious periods in Chinese history. Even today, many overseas Chinese neighborhoods are known as "Tang People's Streets".
The Tang Dynasty was characterized by openness, particularly with respect to women, quite unlike any other period in China. Tang people worshipped natural beauty and skinny Tang women were the exception rather than the rule.
Their unorthodox approach was also reflected in their dress.
The Shaanxi History Museum has a mural from Tang Empress Zhenshun's tomb, which along with another four and a stone coffin cover, was stolen and sold in the United States, but retrieved for free in March 2011.
The painting shows two servants in hats and long gowns, who look like men.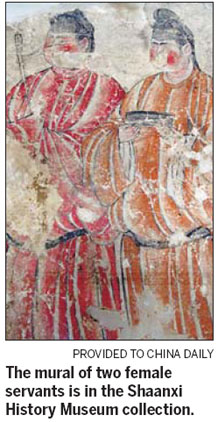 But even as one wonders at the incongruity of male servants in an empress' tomb, a closer look reveals eye shadow, blusher and lip color on the figures, showing that they are women in men's garb.
Images of women attired in men's clothing, in murals, carvings and pottery, have also been found in other Tang tombs, such as that of Princess Anle.
"It's a phenomenon worth studying," Cheng Jianzheng, curator of Shaanxi History Museum, says.
Although this phenomenon had a precedent in the Northern Dynasties (AD 386-581) when Hua Mulan dressed as a man to substitute for her father in the face of war, it was nowhere as pervasive as in the Tang period. The presence of such powerful women as Empress Wu Zetian, Empress Wei, Princess Anle, and Princess Taiping led to this period being dubbed the "kingdom of women", which accorded women an unprecedented high position in society.
Wu Zetian, the only empress in Chinese history, used to wear men's clothes, as did her daughter Princess Taiping. They became role models for women throughout the country.
However, although women suffered much less discrimination, Tang society was still a male-dominated one. One explanation for women dressing like men is that women had to look masculine in public to exude an air of authority.
China Daily
(China Daily 06/21/2011 page18)