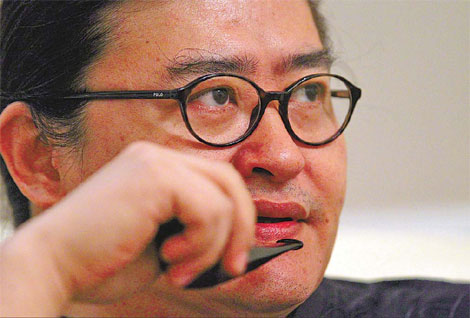 Liu Huan will focus on charitable activities to help students, especially those in remote areas, better understand music. Zou Hong / China Daily
Liu Huan sums up his musical journey over the past 25 years as a willingness to listen to what's new. Chen Nan reports.
To his fans, following Liu Huan's musical journey over the past 25 years has been like an extended tour highlighting the development of pop music in China. The iconic singer has provided the theme songs for numerous popular TV series, such as Sun In Heart for Snowing City in 1987 and Heroes' Song of 1997 TV series Shui Hu Zhuan (The Water Margin), that's in addition to the official theme song Asian Mighty Winds for the 1990 Asian Games in Beijing, and the theme song You and Me, with British singer Sarah Brightman, for the 2008 Beijing Olympic Games.
After a few years out of the public eye, Liu showed up recently in Beijing to participate in a charity event. The enthusiastic applause of fans proved the 47-year-old singer-songwriter and producer is still just as popular as ever.
As always, Liu exudes self-assurance and when a comment is made about his recovery from knee surgery, he jokes, "I am fully recovered and the only sport I cannot play is football. I had lots of free time during the past few years. Like most people, I am a father, a husband and I cook every day."

Liu has been living in the United States with his daughter, who is studying filmmaking there.
"As my daughter is growing up and taking good care of herself, I am ready to return to work," he says.
One of Liu's principle responsibilities this year will be a charity event with Harman International. They plan a series of campus events, such as concerts and lectures from musicians to help students, especially those in remote areas, gain a better knowledge of music.
"It's a good idea to bring music to more students in China," says Liu, who is also a professor at the University of International Business and Economics, teaching the history of Western music.
"Liu is perfect for us to carry out the plan because he is such an iconic figure in China's music industry," says David Jin, president and country manager of China and Northeast Asia of Harman.
"I am a teacher so I am close to the students and know their desire for music," he says.
"Unlike our generation, today's students are active and curious about everything. They are not only interested in established musicians, but also new, alternative music."
In the near future, Liu will write the scores for two TV series, his own album and a series of concerts, which he says will be more personal and not as populist.
During his free time in the US, Liu says he listened most of the time to non-mainstream music, from traditional orchestra music to music from Estonia and Russia.
"This type of music was most surprising and fresh to me and inspired me to write something personal to express myself. If I was restricted by just a few changes and the same rhythms, I might not be able to keep myself or the audience interested," he continues.
"If you try to appeal to everybody in the world, then you get lost. I'm just trying to make music that makes sense to me and I trust other people will be interested."
He points out that China is different from the time "when everyone was listening to one song ... Nowadays, people have diversified choices, which is a good thing for the development of music here," he says.
In his decades-long career, Liu held just two solo concerts, in Beijing and Shanghai, several years ago. As for future concerts, Liu says he wants to play smaller venues and have close interactions with fans.
"I have performed in front of thousands and even millions before. When I performed at the 2008 Beijing Olympic Games, I stood so high that I could see the whole city. But I asked myself, 'what's next'?
"I hope my (future) concerts will take audiences into my musical world, rather than being just a splendid scene or feverish atmosphere."
He admits his busy schedule does not suit his personality now.
"I enjoy a slower pace now that I am getting old," he laughs. "But I am still passionate about music and eager to share what I am doing with fans."
Born in Tianjin, he was a French-language graduate at the Institute of International Relations.
Self-taught, Liu showed his talent for music at university by winning a singing competition, which enabled him to travel to France for two weeks. The trip expanded Liu's horizons, as he had a first taste of foreign music and was inspired.
After graduation, he was sent to teach in Northwest China's Ningxia Hui autonomous region, which gave the urbanite a fresh musical experience. His wide vocal range distinguished him as a singer in those days.
He's won countless awards and tried out a range of musical styles, including classical, jazz, reggae and pop.
"It's just me following my curiosity about various musical forms," he says.
"Being nostalgic is a good habit. When I look at myself, I know what should be kept and what should be thrown away."
In the results-oriented music business, Liu may be considered fortunate to have been able to run his own race. He is not worried about losing fans. In fact, he credits taking risks and venturing into new genres as one reason for the longevity of his career.
"I have been told that lots of people are controlled by their record companies but there is often an unwillingness on the part (of the musicians) to take the risk of losing an audience," he says.
"I don't feel that way because I believe there will always be someone who wants to listen if you put your heart and soul into it."
(China Daily 06/21/2011 page19)