Power plants will double output of Three Gorges Dam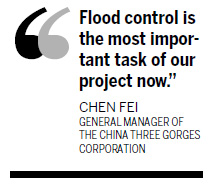 BEIJING - The China Three Gorges Corporation says four planned hydroelectric power stations being built on the Jinsha River will be capable of producing twice as much power as the Three Gorges Dam, which is currently the world's largest-capacity hydroelectric power plant.
The company says the four new plants on the river, which is part of the boundary between Yunnan and Sichuan provinces, will be able to pump out 43 million kilowatts.
The four stations together will generate about 190 billion kilowatts of electricity a year after they come online during the next few years, according to a report released by the China Three Gorges Corporation on Sunday.

Today's Top News
Editor's picks
Most Viewed