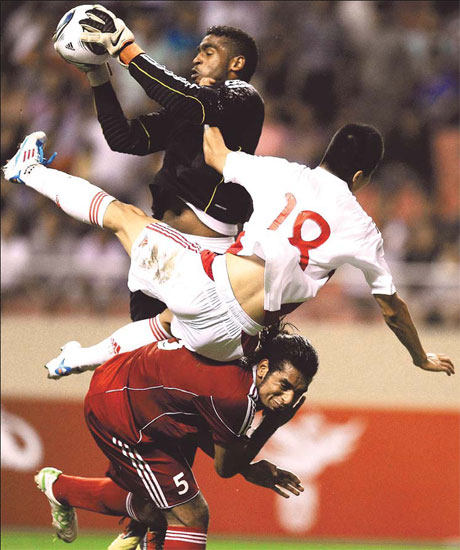 China's Wang Gang (in white) tries to score during its London Olympics Asian Zone qualifier against Oman in Shanghai on Sunday. Oman won the match 1-0. Xinhua / Guo Yong
SHANGHAI-It was another sleepless night for Miroslav Blazevic as the Chinese Under-23 team lost to Oman 1-0 on home soil at Shanghai Hongkou Soccer Stadium on Sunday.
The 74-year-old Croatian said he could not sleep before the game because every minute he was thinking of ways to defeat Oman. What he got on Sunday was a loose backline, an invisible midfield and a shotless frontline.
The Chinese started to disappoint the veteran coach from the third minute, when they awkwardly screwed a tactical corner and allowed Al Hadhri Hussain Ali Farah of Oman to finish a counterattack with a goal to take the lead.
Although more than 14,000 fans kept cheering and singing the national anthem to inspire the home team, the inexperienced squad still produced mistakes and failed to turn the momentum around in time to save the match.
The teams will arrive in Muscat today and play their second game there on Thursday in temperatures of more than 40 C.
Meanwhile, Asian zone heavyweights Australia, Japan and Republic of Korea (ROK) put one foot in the final phase of London Olympics qualifying with emphatic home victories on Sunday.
Asia's top trio all scored three times against Middle Eastern opposition, making them strong favorites to reach the third and last round in Thursday's away legs.
Australia sparkled to a 3-0 victory over trouble-hit Yemen, the ROK overcame dogged Jordan 3-1 and Japan beat Kuwait by the same margin but was disappointed not to score more.
However Democratic People's Republic of Korea, who played its first World Cup since 1966 last year, is up against it after losing 1-0 at home to UAE, courtesy of Ali Mabkhout's 56th-minute strike.
This week's 12 winning teams will be split into three groups of four for final qualifying, with the three top sides all gaining automatic entry to the Olympics.
The second-placed teams will play a three-way round robin with the winner going into a play-off with a side from the African confederation.
China Daily
(China Daily 06/20/2011 page24)