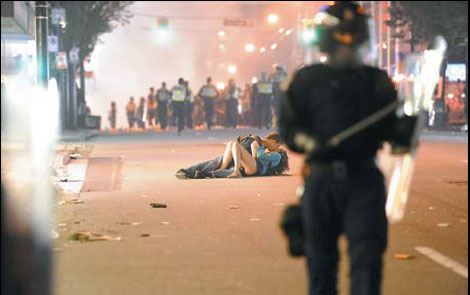 Riot police walk in the street as a couple kisses on Tuesday in Vancouver, Canada. Vancouver broke out in riots after its hockey team, the Vancouver Canucks, lost in Game 7 of the Stanley Cup finals. Rich Lam / Agence France-Presse
VANCOUVER - A shamed Vancouver faced a huge cleanup and mounting security questions on Thursday after hockey fans set parts of downtown ablaze and clashed with police, leaving hundreds injured or arrested in Canada's worst riots in years.
The city in normally sedate western Canada was calm but in a state of shock on Thursday, after hooligans including supporters of the Vancouver Canucks poured into the streets to torch cars and loot stores.
Volunteers showed up early and worked alongside city crews to help in the cleanup, but some streets were still full of smashed glass and many businesses remained closed.
As the Canucks' dream of winning Canada's first NHL championship in 18 years collapsed in a 4-0 thrashing by the visiting Boston Bruins late on Wednesday, the city was plunged into dangerous chaos for several hours.
Disgruntled fans set two police cruisers and 13 other cars on fire and police in riot gear used tear gas to break up unruly mobs. Local hospitals then called a "Code Orange", the signal "to get ready for mass casualties", St. Paul's hospital spokesman Shaf Hussain said.
Injuries included at least 12 stabbings, falls, head trauma and tear gas exposure, said Hussain, noting 130 people went to the emergency unit at St. Paul's while scores showed up at other hospitals.
Vancouver Police Chief Constable Jim Chu said nine officers were injured, including "some officers that suffered human bites".
More than 100 people were arrested, said Chu, who promised to mete out tough justice to the "criminals, anarchists and thugs bent on destruction".
The riots have appalled many residents, and cast a shadow over a city basking in the glow of its successful hosting of the Winter Olympics 16 months earlier.
Vancouver MP Hedy Fry told CTV the riot was due to "a fatal cocktail of alcohol and emotion ... and mob psychology".
But she also blamed a group of instigators who came to the downtown area prepared to wreak havoc.
"Who goes to a hockey game with a mask on?" she said.
Several of the vandals were seen with covered faces, and AFP saw at least one man with a gas mask.
"I am still very proud of my city," Fry said, arguing preparations by the police and hospitals prevented further chaos.
Fights broke out in the crowded streets even before the game ended, and by the time the Bruins accepted the cup inside Rogers Arena, windows were being smashed outside, stores looted and fires set until black smoke blanketed downtown, where an estimated 100,000 hockey fans had gathered.
"It's extremely disappointing," Vancouver Mayor Gregor Robertson said after the game.
National broadcaster CBC said the destruction was worse than the city's 1994 riots - also when the Canucks lost in the Stanley Cup finals - quoting its reporter Alan Waterman who covered both riots and was injured in Wednesday's unrest and taken to hospital.
"It was scary," Canucks fan Jeff Chan said, as he walked away from the violence downtown.
Numerous social networking groups sprang up after the riots. More than 13,500 people signed up to clean the city on Thursday, and the "Vancouver Riot Pics: Post Your Photos" group - a rogues gallery of sorts on Facebook - had 45,000 members.
The mayhem shocked many Canadians who see their country as far less susceptible to the social upheaval in places like the United States, Europe and the Middle East.
"There was 150,000 people downtown and the actions of the handful of LOSERS make the rest of us look bad," Lisa Watson wrote on Facebook.
Agence France-Presse
(China Daily 06/18/2011 page16)