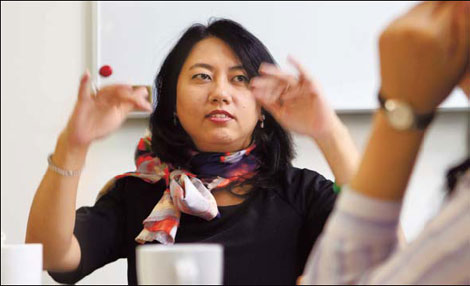 International SOS handled more than 500 medical evacuations in China last year, said Eliza Kwok, chairwoman of International SOS China Region. Wang Jing / China Daily
Rescue teams are on the rise along with the growing number of mountaineering accidents and outdoor sports injuries in China.
The country has at least 20 mountain rescue teams. Included in their number are the China Mountain Rescue Team and the Beijing Red Cross Blue Sky Rescue Team, reported Outdoor China, a monthly magazine produced by the Mountaineering Administration Center under the General Administration of Sport.
At present, mountain search and rescue in China relies on three major kinds of forces, said Peng Chunhong, 37, a founder of the Lvye Rescue Team.
First, the government is responsible for leading and organizing search and rescue activities as soon as it receives an emergency report. All related divisions of the government will be involved, including the police, the fire department, the armed forestry police and the office of emergency response.
Second, business corporations such as International SOS and insurance companies will help arrange for medical treatment and other medical services after the people injured are found by rescuers and sent to hospital.
International SOS handled more than 40,000 medical cases and more than 500 medical evacuations in China last year, said Eliza Kwok, chairwoman of International SOS China Region.
It helps evacuate those who are seriously ill or injured in China from local hospitals to more advanced hospitals that are up to international standards or even back to their own countries if necessary. About 20 percent of the medical evacuations are carried out via the company's air ambulance.
Third, non-government mountain rescue teams formed by volunteers assist the government with their knowledge and experience during search and rescue activities.
"These non-government rescue teams and outdoor sports clubs have become the backbone of mountain rescue forces in our country," said Ci Luo, deputy director of the mountaineering team at the Chinese Mountaineering Association.
Founded in 2003, the Lvye Rescue Team has more than 500 members, of whom more than 200 join rescue activities regularly. Although the team is based in Beijing, it also has branches in Hebei and Shandong provinces. Its members attended 28 mountain rescues in Beijing's suburbs in 2010 and 18 rescues in 2009, according to 45-year-old Lu Zhonghong, captain of the team.
"Rescue teams formed by volunteers are unstable," he said. "Volunteers may join a rescue activity or attend a training session randomly but skip another next time. Except for some leading activists, most of the team members do not have a comprehensive knowledge of outdoor sports and mountain rescue."
The Lvye Rescue Team once tried to register as a non-profit social organization, but failed because it could not find a government department in a relevant field that was willing to accept it as a subordinate. Without a publicly recognized identity, it is hard for the team to raise funds or receive donations, said Peng.
For each rescue activity and training session, members of the team have to cover the cost of rescue equipment, training and transportation out of their own pockets. They were even asked to buy tickets sometimes when they were trying to help the police rescue tourists trapped in scenic areas, Peng added.
China Daily
(China Daily 06/05/2011 page3)