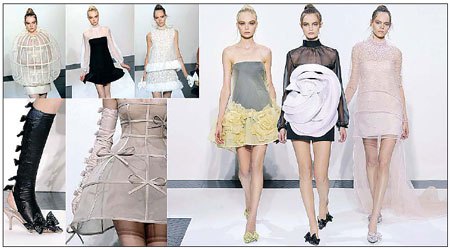 Luxury brands have become synonymous with quality and high fashion. Photos Provided to China Daily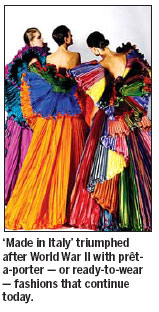 Just 60 years ago, Italians had plenty of innate fashion, but little fashion industry.
In marked contrast to its current position as a "fashion superpower", almost no Italian designer in the nation enjoyed an international reputation at that time.
The upheavals of the war years changed everything - new factories were created, a new generation of native design talent conceived a fashion identity and the Italian fashion industry quickly developed a flair for marketing.
A particular event actually changed it all, a milestone that could be called the birth of Italian fashion in its current meaning.
That story began on February 25, 1951 when Count Giorgini staged a fashion show for an international audience at his own home, Villa Torrigiani, in Florence.
Giorgini's invitation drew an elite band of US retailers, which then galvanized other Italian designers such as Sorelle Fontana and Simonetta Fabiani.
The fashion happening was repeated in the following years in ever-greater numbers until Milan asserted itself as Italy's fashion showplace in the early 1980s.
After Milan became a fashion hub, "Made in Italy" reached its height with the triumph of prt-a-porter - or ready-to-wear - fashions that continue through to current trends inspired by avant-garde art and cultural movements.
Enduring mark
As a result, the Italian fashion business has left an enduring mark.
Luxury brands have developed a unique identity that is synonymous with quality and high-end fashion - Ferragamo, Valentino, Dolce & Gabbana, Prada, Armani, Gucci, Versace - brands well-known all over the world.
Their charm is enduring. As a recent report by business consulting firm KPMG found, Italian brands top the wish list of wealthy Chinese consumers.
Luxury discount shopping villages are now being built in China, including the Florentia Village in Tianjin that sprawls across 60,000 square meters and resembles a 16th century Italian town.
The biggest challenge to the industry challenge is fakes. Italy's national retailers association estimates the counterfeit market siphons off 8 billion euros ($11.2 billion) a year, putting thousand of companies out of business.
Still the industry is showing resilience also thanks to a new generation of Italian design talent.
But what makes Italians so good at the fashion business?
Possibly a special gift at communication, as dressing has always been regarded as a means of self-assertion in the society, an instrument of personal confirmation for individuals.
Whatever the reason, keep counting on the Italians to shape the world's fashion sense.
(China Daily 06/02/2011 page19)