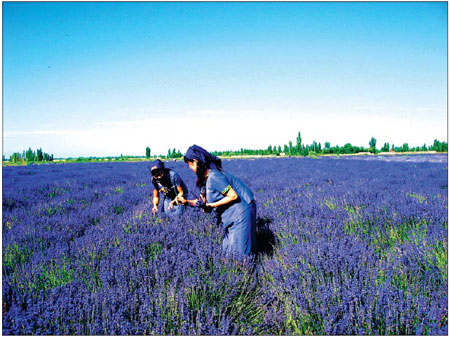 Workers on the lavender farm. The XPCC aims to triple the processing of agricultural products. Yu Rongcheng / for China Daily
Xinjiang Production and Construction Corps (XPCC), also known as Bingtuan, is a unique economic and semi-military governmental organization in the Xinjiang Uygur autonomous region. It has vowed to realize "leapfrog development" in the 12th Five-Year Plan period (2011-2015) by pushing forward urban construction, industrial development and modern agriculture.
Development of these three aspects will focus on centralizing people in cities, industrial parks and large-scale farmlands, establishing an efficient economic structure and further optimizing the development mode, according to the information office of the XPCC.
Urban Construction
The XPCC aims to build up a multi-tiered, clear-functioned, environmentally friendly urban system that connects eight to 10 cities, 10 towns and 160 townships in regimental farms, as well as 400 residential blocks in company farms by 2015.
The cities of Shihezi, Wujiaqu, Alar, Tumushuke and another 38 small towns will be the key construction projects driving urban construction.
After its expansion in both area and population, Shihezi will be developed into an environmentally friendly city with robust industrial development strength.
Wujiaqu, located between the region's capital Urumqi and Changji of the Changji Hui autonomous prefecture, is expected to become a key industrial base in north Xinjiang and a new engine for the XPCC's economic development.
Altar's expansion focuses on improving the investment and living environment, so it becomes the main force pushing forward urbanization and maintaining social stability in south Xinjiang.
Tumushuke will become a production and distribution center for appliances and ethic garments in south Xinjiang.
Beitun will also quicken its pace of urban construction, as it aims to become the trade hub of north Xinjiang.
The XPCC will also make great efforts to build small towns and townships and bettering the infrastructure construction in its regimental farms.
Industrial development
The XPCC plans four stages of industrial development in the next five years.
First, it will extend the industrial chain and develop the processing of cotton and grain. The XPCC is the major cotton producer in the country, accounting for one-sixth of China's total cotton output in 2010.
With its rich cotton resources, the XPCC aims to build up a key national cotton processing and products export base by 2015.
It will also construct six processing bases for its key farm products, including vegetables and fruits, as well as milk and meat.
The XPCC also aims to accelerate the transformation of mineral exploitation to industrial products processing.
Great effort will be made to nurture and develop a batch of emerging industries of strategic importance, including biological technology, new materials and energy, as well as information technology, in a bid to maintain the sustainable economic development of the XPCC.
Preferential policies will be given to develop big enterprises, in order to restructure the market and build brands.
The XPCC will also quicken its construction of industrial parks in all parts of Xinjiang, including the economic and technology development zone in Shihezi, and the special economic development zones in Kashgar and Khorgos.
Modern agriculture
In 2007, the State Council asked the XPCC to set up a water-saving irrigation base, agricultural mechanization base, and a modern agriculture base as national models.
By the end of 2015, the income from livestock, gardening, vegetable and fruit industries is expected to account for 50 percent of the nation's total value of agricultural production.
The processing rate of agricultural products will increase to 60 percent from the current 20 percent.
Cotton output is expected to top 1 million tons by the end of 2015 and to account for one-sixth of China's total cotton output and the grain production capacity is expected to reach more than 3.5 million tons.
The XPCC's contribution to modern agricultural science and technology is expected to lead the nation.
Farm mechanization will have reached 92 percent by the end of 2015 and the per capita net income of farmers and herdsmen is expected to see an average yearly increase of nearly 10 percent from 2010 to 2015.
(China Daily 06/01/2011 page35)