Jiexi Jingming Hot Spring Resort, one of the nation's 4A-rated scenery sites and agricultural tourism model sites. Li Weizhao / for China Daily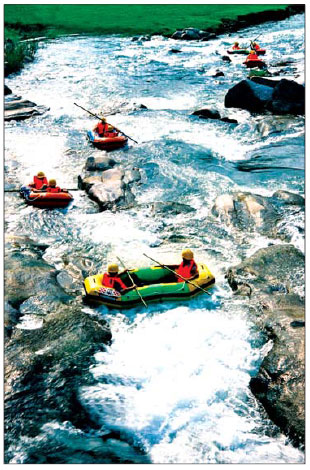 Drifting in Jiexi offers unique experience. Provided to China Daily
JIEXI, Guangdong - An increasingly popular tourist destination in the east of Guangdong province, the county of Jiexi plans to spend 350 million yuan this year to fortify development of its leisure industry and attract 3.2 million visitors, a 20 percent increase from 2010.
A mountainous area administered by the city of Jieyang, Jiexi is about 400 kilometers from Guangzhou, the provincial capital of Guangdong, and about the same distance from Hong Kong.
Plans this year include an increased budget, growing investment in infrastructure, improvements in scenic spots and hotels, and more efforts to publicize its attractions.
The county has set target revenue from the sector of 1.08 billion yuan this year, an increase of 28 percent from 2010.
Jiexi hosted 2.7 million tourists in 2010, up 31.7 percent from the previous year, which generated 850 million yuan in revenues, an increase of 59 percent.
"Jiexi is positioned as a beautiful mountainous county in the overall development blueprint of Jieyang," said Wu Yumin, Party secretary of Jiexi and head of the county government.
"We will do our utmost to step up the development of the tourism industry and further turn the county into a preferred destination in the east of the province, in Guangdong, nationwide and even worldwide," he said
Highlights of the county's development plan for 2011 include an investment of 3.04 billion yuan in the Dabei Mountain eco-tourism zone, 80 million yuan for the Daxi "agritainment" project and a 6.67-hectare five-star hotel resort project that will require 1 billion yuan in investment.
Wu said that a new batch of 3A-rated scenic spots and three-star hotels will be available to tourists this year.
According to the official, the 4A-rated Jingming Hotspring Resort is applying for qualification as a 5A tourism spot, the highest ranking in the nation.
The county's Huangmanqi Waterfall tourist zone and Dabei Mountain National Forest Park Resort are expected to be officially recognized as 4A scenic zones as its Shinei River rafting zone becomes a 3A site.
Wu said that the county will spotlight scenic attractions and spots of historical interest in its promotional campaigns, including the historic town of Mianhu, the Three-Mountain King Ancestral Temple, Huangmanqi Waterfall, Cukeng village - considered one of the most beautiful in Guangdong - the eco-resorts of Jingming and Dabei Mountain, the Shinei River rafting area, the Daxi "agritainment" project and Longyuan Eco-Park.
(China Daily 06/01/2011 page20)