Loneliness of the single child
Tong Jianping, director of the women's federation in Xiapingshan village, Zhejiang province, hands out free contraceptives in January 2003. Fu Yongjun / for China Daily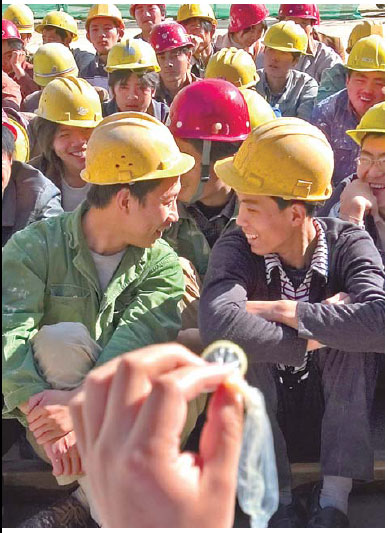 Construction workers in Beijing attend a lecture on safe sex in June 2010. Most think HIV/AIDS is a remote disease that won't affect them. Pan Songgang / for China Daily
Shao Pei and his wife Zhou Min, both only children, are considering moving to another neighborhood in Beijing with a higher population of children. That's because their only daughter, nicknamed Xiaoxiao, is turning 2 years old soon and will need to make friends. The couple, in their early 30s, live in a high-end apartment building in the capital's expensive Central Business District, densely populated with young elite white-collar workers but few children.
"I want to give my daughter a playful childhood with the companionship of peers. It still hurts when I recall my own lonely childhood," Shao says.
Shao and his wife are among China's first generation of only children who have come of age and are starting to have children. Around 1980, China launched its family planning policy, which limits most couples on the mainland to have only one child.
It does not cover ethnic minorities and farmers whose first child is a girl. In all regions except Central China's Henan province, the policy was later adjusted to exempt couples who are both only children.
Shao's parents help take care of Xiaoxiao, but despite the company of grandparents, "my girl still feels lonely and is always in want of playmates," he says.
Meeting other children her age, she always likes to play with them and hates to say goodbye, Zhou says.
"Also, more peer communication at an early age will help her with better interpersonal skills and character and personality building," she says.
Professor Tian Chenghua of the Institute for Psychiatric Research at Peking University's No 6 Hospital says that from the perspective of psychology, growing up alone is not good for mental health and building self-confidence.
In truth, the couple is among many young parents, particularly in cities, who are trying to find more friends for their only child.
"Living in high-rise buildings impedes communication between children and their playmates, so nowadays more and more children lack interpersonal skills," Qin Ke, a kindergarten teacher in South China's Guangxi Zhuang autonomous region, told Xinhua.
"The second generation of only children are used to depending on their parents and grandparents for everything. So they are more likely to be selfish and weak when they face troubles and difficulties," Qin says.
Ni Qian, a middle school teacher in Xi'an, capital city of Northwest China's Shaanxi province, tells China Daily that she has registered at a local parenting club, which matches families who want their children to meet more peers.
"Personally I have benefited from being the only child as my parents focused limited resources on me and helped me finish college and find a decent job in the city," says Ni, whose parents were both farmers from the poor countryside of Shaanxi province.
However, she insisted her son have more friends, not just for fun, but for better emotional development.
"A good emotional development will give him a happy life and help him perform at work where cooperation with others is a must," she says.
Back in 1957, Ma Yingchu, then president of Peking University, proposed family planning and birth control to help rein in a surging population in the country and improve the quality of the people.
He was harshly criticized, but later Chairman Mao Zedong liked Ma's idea and reportedly decided at the end of 1974 to curb high population growth.
At that time, each couple on the mainland had an average of four children and the total population was nearly 980 million by 1979.
Some 30 years into its implementation, the policy is credited with preventing 400 million births on the mainland and helping fuel China's economic miracle, particularly the GDP per capita, and improving people's livelihoods, says Xia Haiyong, director of the Institute for Population Research at Nanjing University.
Liu Yuting, a family planning official in Shandong province, says it's a tough job persuading people not to have more children, especially in rural areas where farmers traditionally hold to the belief of "more sons, more blessings".
Furthermore, without sound welfare programs in medical care and old age support, rural residents have relied on more children, particularly sons, to support them in old age.
But as birth control plays an important part of official evaluations, some grassroots officials, mostly in rural areas, have even turned to forced abortions to deal with violators, according to Liu.
In urban areas, the affluent may "go through the back door" to land a birth quota and some even go abroad to give birth, circumventing the policy, she notes.
Li Bin, minister of the National Population and Family Planning Commission, says "all birth control families have contributed to the country's social and economic development, thus should be among the first to enjoy fruits of development".
As violators of the policy are heavily fined, the commission gives out compensation to those who respect the law.
The government has spent 1.23 billion yuan ($189 million) over the past five years to subsidize 413,000 rural families with fewer children than they were allowed.
"We will keep improving support for such families in the coming five years," she pledges.
Facing an increasing public outcry to ease the policy in recent years, Li emphasizes that keeping the birth rate low is still the priority given the country's large population and relatively scarce natural resources.
However, challenges such as an aging population and dwindling labor supply are looming, experts say.
According to the latest national census, the Chinese are quickly aging, with those above 60 making up 13 percent of the population.
Meanwhile, the proportion of people aged 14 or younger is 16 percent, down from nearly 23 percent 10 years ago.
Yuan Xin, a professor with Tianjin-based Nankai University's Population and Development Institute, suggests that decision-makers consider changes to meet new challenges since China has maintained a low fertility rate for more than a decade, proving that the goal of family planning has been achieved.
The change might start with removing the ban on urban couples, with either one being an only child allowed to have a second child if they want, he says.
(China Daily 06/01/2011 page10)
Today's Top News
Editor's picks
Most Viewed